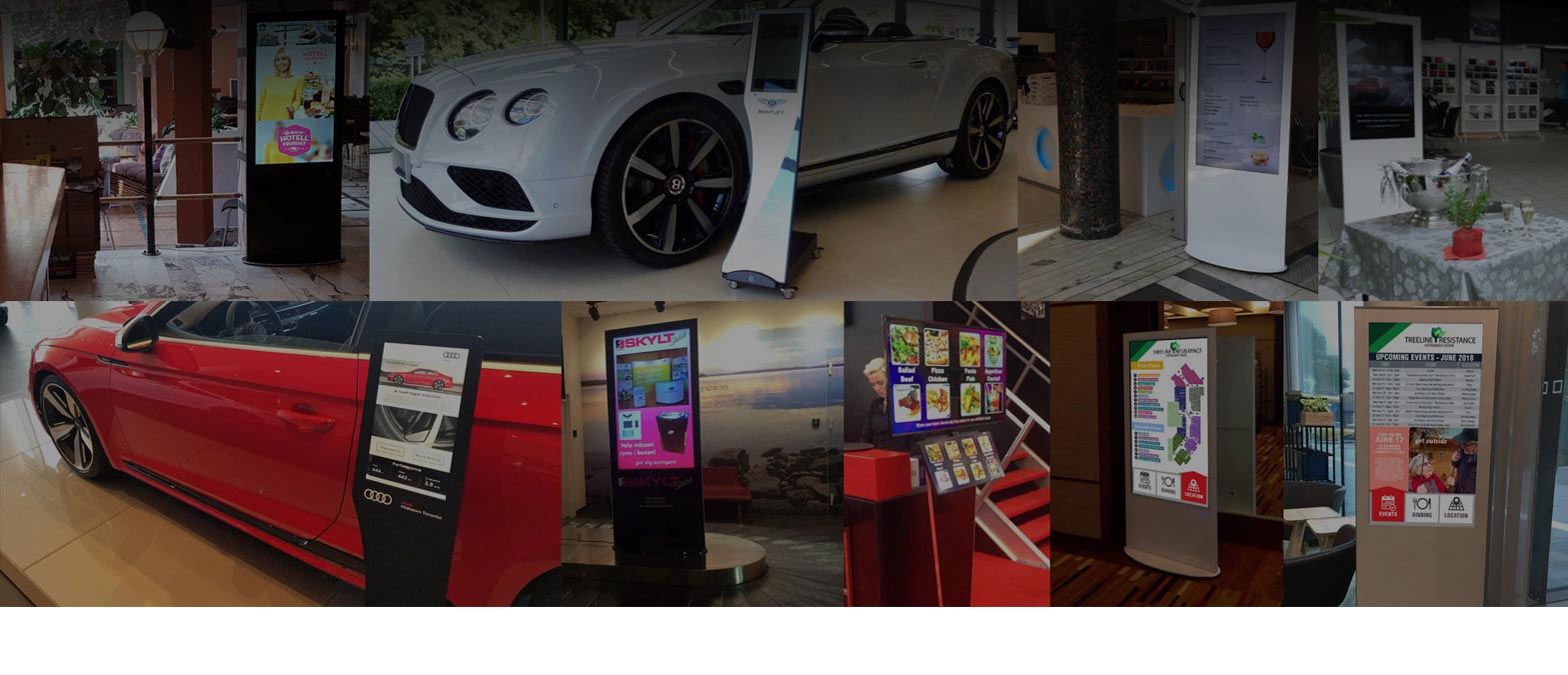 Touch Screen Interactive Kiosks
Our new line of interactive kiosks are built for 24 hour a day. 7 day a week operation. With a sleek design and battery option, you can place these wireless touch Screen Kiosks anywhere to attract customers and increase brand awareness.
Interactive Digital Kiosk Line
Our line of smartly designed interactive Digital Kiosks come in many styles and configurations that are sure to meet the communication goals for many industries.

---
HAND SANITIZER KIOSK 22"
Wall and floor standing with integrated 5 liter hand sanitizer.
All Metal Enclosure design for commercial use.
Android 7.1, RK3288, 2GB RAM, 8GB storage
Auto - Sensor Controlled Dispenser for No-Touch Operation
Can be filled with various disinfectants - Gel, liquid, foam
High Capacity 5000ML
Easy Refill. Light sensor will show Full/Medium/Low Status
Remote monitoring usage times and capacity alarm
Battery optional to supply power
FULL PRODUCT SPECS
ANGLED TOUCH INTERACTIVE KIOSK 24"-49"
These all in one kiosks are well suited for both touch and non touch applications.
All-In-one PC adopts Intel core processors
An elegant, powerful device with the ability to create, stream and share HD Content
Great for large facilities or offices with high foot traffic
All in one touch screen kiosks could be used in a wide range markets, such as gaming machines, hospitality systems, industrial automation, interactive kiosks, point of sale system and retail displays.
FULL PRODUCT SPECS
LAMINA TOUCH 50-58"
Create an impact with large 4K interactive kiosks.
Available in both standard and 6 point touch interactive.
Great marketing tool to help advertisers promote their products and services
Additional accessories including mobile base with lockable wheels that makes it easy to move
Large screen size allows you to put a lot of content targeting many audiences at once
FULL PRODUCT SPECS
SANDWICH BOARD 32"
A portable and cost-effective way to attract customers.
The advanced construction of the Sandwich Boards allows it to be used in double sided (mirrored) mode.
Portable so you can easily move it to any part of your business/facility
Cost-effective so you are not constantly printing and shipping new posters
FULL PRODUCT SPECS
LAMINA DOUBLE-SIDED 50"
Double the exposure with a single digital signage kiosk.
Available in both standard and 6 point touch interactive.
Have the option to show the same content or different content on each side
Great for large facilities or offices with high foot traffic
Additional accessories that help promote your products such as shelving and a top banner
FULL PRODUCT SPECS
LAMINA 28"
Represent your brand in Ultra HD with vivid images and video.
Available in both standard and 6 point touch interactive.
Smart HDMI – Display sleeps/wakes up based on the HDMI signal
Automatic Timer
Additional shelves can be added to showcase products
Available in touch and non-touch versions
FULL PRODUCT SPECS
SIGNO 15.6"
The Signo takes interactive kiosks to a new level in an optimal and cost-effective manner.
It runs on a battery, which makes it easily mobile without wires and can be used anywhere (such as malls, dealerships, tradeshows and lobbies)
Additional accessories such as the motion sensor that saves battery life until it detects motion and draws customer attention
The product is lightweight (8.5 kg/19 lbs.) and is equipped with wheels that allow it to be moved easily
FULL PRODUCT SPECS
TEMPERATURE CHECK KIOSK 10", 15", 21"
To keep your environment safe, there is a fast way to check anyone's temperature prior to them entering a room.
MediaTile's temperature check access control system is based on an algorithm that is designed to detect body temperature within 1 second detection rate at a distance of 0.5 to 1-meter distance to increase safety and efficiency.
FULL PRODUCT SPECS
TEMPERATURE CHECK KIOSK 8" WITH HAND SANITIZER
Leading edge Temperature Measurement & Face Recognition Monitors for commercial and industrial use.
The product aids in disease prevention and control, with contactless temperature detection, facial recognition software and card reading capabilities.
FULL PRODUCT SPECS
TEMPERATURE CHECK KIOSK 7"
Dual Camera • Waterproof • Syncs with Doors.
To ensure people that access your property are not running a high temperature, MediaTile has developed the new temperature sensor/detector. It provides alerts when a person runs a high temperature, therefore should not enter your premises.
FULL PRODUCT SPECS
DURALINE ANGLED KIOSK 43"-55"
Perfect for malls, college campuses, retail locations and a host of other applications.
The kiosk is constructed using 14 GA. high impact steel and built to take public traffic and bumps and bruises. It is perfect for malls, college campuses, retail locations and a host of other applications. This kiosk can be painted any color you desire and can also include printed decals and kiosk wraps.
FULL PRODUCT SPECS
DURALINE KIOSK 43"-55"
All-in-one touch solution for any environment
UHD resolution capabilities for incredibly clear content, increasing customer engagement with lifelike images that have been optimized to display exactly as intended.
FULL PRODUCT SPECS
KEY FEATURES
A complete line of kiosks for your every need.

Commercial Grade kiosks
Interactive kiosk that are built for the rigors of 24/7 use, so you stay up and running.

Mobile
All interactive kiosks have available casters for easy relocation.

Cellular Connectivity
We utilize commercial cellular routers to ensure your connection stays up.

Installation
We supply everything you need to make the installation quick, tidy and secure.

Training & Support
Our team of Specialists in our R&D facilities are ready to help you when you need it.
HOW INTERACTIVE KIOSKS BENEFIT YOUR INDUSTRY


Today's consumers are more technology educated and feel comfortable looking for information using interactive kiosks. Interactive kiosks create a digitally immersive shopping experience, guides people through complex environments, effectively communicates with employees and much much more.