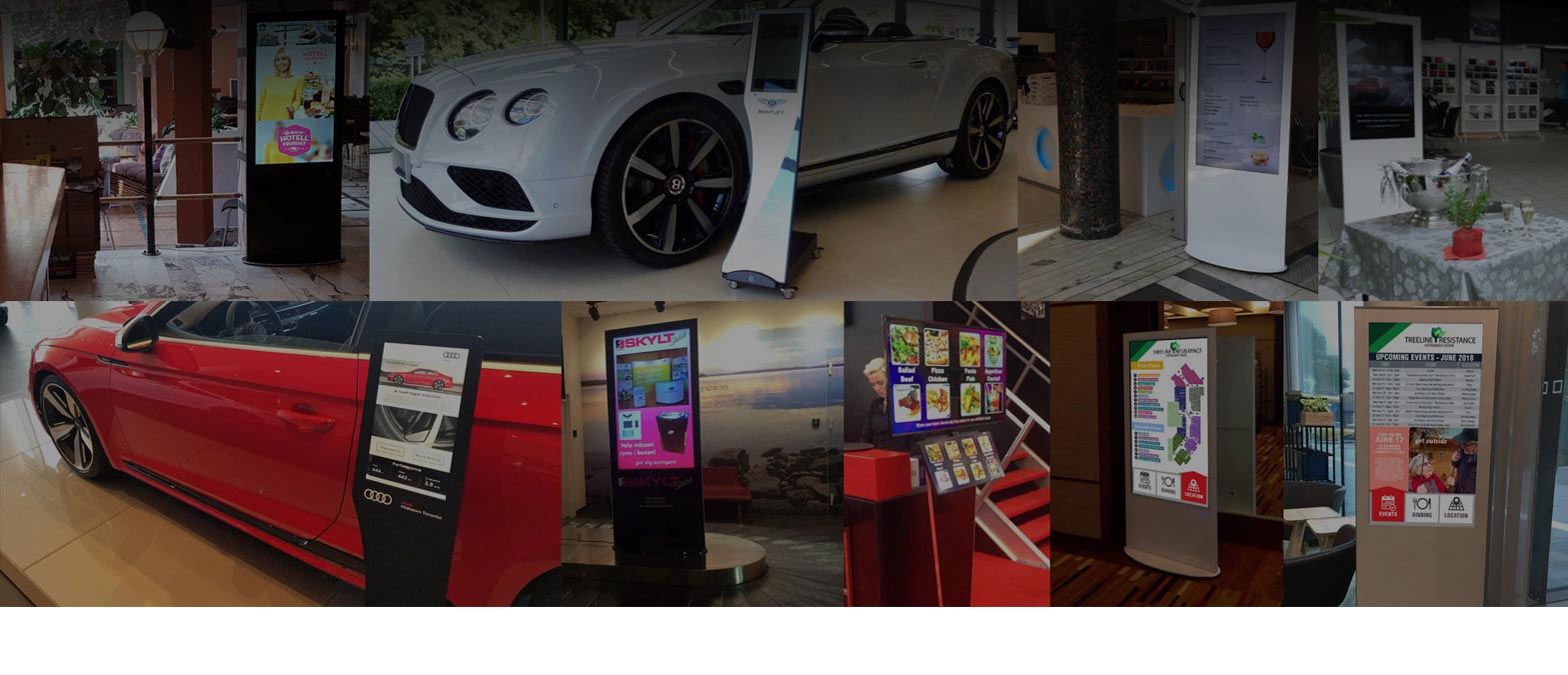 Touch Screen Interactive Kiosks
Our new line of interactive kiosks are built for 24 hour a day. 7 day a week operation. With a sleek design and battery option, you can place these wireless touch Screen Kiosks anywhere to attract customers and increase brand awareness.
Interactive Digital Kiosk Line
Our line of smartly designed interactive Digital Kiosks come in many styles and configurations that are sure to meet the communication goals for many industries.

---
HAND SANITIZER KIOSK 22"
Wall and floor standing with integrated 5 liter hand sanitizer.
FULL PRODUCT SPECS
ANGLED TOUCH INTERACTIVE KIOSK 24"-49"
These all in one kiosks are well suited for both touch and non touch applications.
FULL PRODUCT SPECS
DURALINE ANGLED KIOSK 43"-55"
Perfect for malls, college campuses, retail locations and a host of other applications.
FULL PRODUCT SPECS
SIGNO 15.6"
The Signo takes interactive kiosks to a new level in an optimal and cost-effective manner.
FULL PRODUCT SPECS
TEMPERATURE CHECK KIOSK 10", 15", 21"
To keep your environment safe, there is a fast way to check anyone's temperature prior to them entering a room.
FULL PRODUCT SPECS
TEMPERATURE CHECK KIOSK 8" WITH HAND SANITIZER
Leading edge Temperature Measurement & Face Recognition Monitors for commercial and industrial use.
FULL PRODUCT SPECS
KEY FEATURES
A complete line of kiosks for your every need.

Commercial Grade kiosks
Interactive kiosk that are built for the rigors of 24/7 use, so you stay up and running.

Mobile
All interactive kiosks have available casters for easy relocation.

Cellular Connectivity
We utilize commercial cellular routers to ensure your connection stays up.

Installation
We supply everything you need to make the installation quick, tidy and secure.

Training & Support
Our team of Specialists in our R&D facilities are ready to help you when you need it.
HOW INTERACTIVE KIOSKS BENEFIT YOUR INDUSTRY


Today's consumers are more technology educated and feel comfortable looking for information using interactive kiosks. Interactive kiosks create a digitally immersive shopping experience, guides people through complex environments, effectively communicates with employees and much much more.