Digital Signage for

Property Management
Make managing properties easy with an effective and cost-efficient digital signage solution. Communicate important information to tenants and take advantage of key features such as wayfinding, safety features, emergency broadcast and more.
Effective Tenant Communication
Informed staff and tenants can make property management easier. Digital signage helps keep your facility running smoothly with current information delivery and practical functionality. It also adds a sophisticated and modern look.
Display building directories, advertise tenants of maintenance schedules and show upcoming events. Create a great customer experience with digital signage that can come in the form of kiosks, video walls or interactive touchscreens.
Keep your audience informed.
Visualize relevant messages and updates in a most attractive way
Increase content flexibility and customization
Welcome visitors to your property with personalized messages
Entertain and decrease elevator wait time
Inform about fire alarms testing or other property's maintenance procedures
Advertise upcoming events and activities
Reduce Costs
Manage your network remotely
Cost reduction on printing and installation
Save on logistics costs
Safety Improvement
Display directions
Alert notifications and actions required
Instant broadcast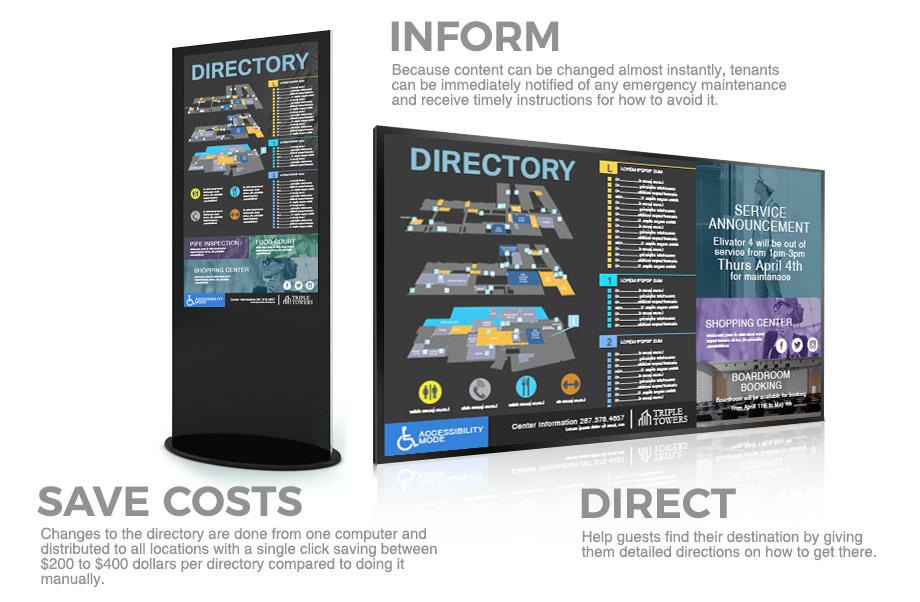 Product Spotlight: Wayfinding
Some larger commercial or residential buildings can be confusing to navigate. Use Wayfinding to help direct traffic and provide clear direction to visitors.
You can:
Help guest move easily through your facility
Avoid long line-ups and have visitors efficiently routed to where they need to be
Inform guest or residents of services and events
Stat
Perceived wait times for elevators can be a real problem but after installing digital signage, a recent client of ours told us that "Elevator delay complaints went down 80%".
Industry Focus Spotlight
Technology & Property Management
Replacing print materials with digital directories will increase your building profile, save costs and reduce perceived elevator wait times. They can also generate revenue by displaying 3rd party advertising or direct guest using interactive maps.