Digital signage influences
8 in 10
restaurant customers to make unplanned purchases
Visual content attracts
94%
more views than text-based messaging
Digital Signage Solutions for
Food & Beverage Industries
Indulge your customers' senses with compelling visual messages. Effective digital signage solutions create a new communications channel for increasing your average check, attracting new customers, turning customers into regulars and more. Our MediaTile experts help you create a communication plan with digital signage solutions that engage, educate and empower your customers.
Engage
Attract passing foot traffic with dynamic visual photos of food and beverage items
Present enticing photos of menu items to influencing purchasing decisions 43% more effectively than just text
Create revenue opportunities by reserving screen zones for potential advertisers
Educate
Share deals and specials with an 83% recall rate when using digital signage
Update your menu in real time to change price, availability, promotions and more
Display calendars, news, social media feeds, "now serving" queue numbers and more
Empower
Allow customers to independently browse menu items and order using interactive kiosks
Excite and welcome customers with entryway screens and video walls
Give store managers and employees creative control over certain screen zones MediaTile Platform Features for
Food & Beverage Industries
Our easy-to-use and versatile MediaTile digital signage Content Management Software platform is designed with all the features and integrations you need for a powerful digital signage solution.

Prepare Content in Advance or Push Immediate Messaging
Schedule your content to play on specific hours, or days or change your messaging in real time. You also have the option to override your content with alert broadcasting to keep your customers and employees safe and informed during lockdowns, fire drills and other emergencies.
Entertain Waiting Areas with Live Feeds and Media
Pull from local news, local weather, stocks, social media feeds and more, so customers in waiting areas can stay up to date and informed while waiting. Our drag-and-drop interface makes it easy to pick and place media into the content designer.
Tap for Payments and Loyalty Points with NFC/RFID
Accept contactless payments, track loyalty program points, provide targeted marketing and more. Enable NFC to your digital signage to provide value to your audience with the tap of their NFC-enabled mobile device.
Manage Multiple Departments and Store Locations
Display different content to specific departments or screen locations so your customers only receive relevant information.
Create Revenue Opportunities with Zone Permissions
Create a specific screen zone for potential advertisers to display, as an opportunity to create an additional stream of revenue. Advertisers can make changes to all or portions of screens based on permissions. Changes can be set to only go live from approval of accounts with specific admin permissions.
Promote Deals and New Products with Beacons
Use your digital signage to communicate with your customers' mobile devices via Bluetooth and Wi-Fi. Send deals to your customers as they enter your retail store. Receive anonymous traffic patterns to understand your foot traffic and how your audience moves within your store.
Get a Custom Digital Signage Solution

Speak to a MediaTile expert to get a digital signage solution for your unique communication needs.
We'll create a custom digital signage solution for you, at no obligation or cost. See how digital signage can benefit your grocery store, restaurant or other food and beverage institution.

Book a demo to explore all of the platform features that will make up your digital signage solution. Discover how easy it is to manage your content and screens on our secure network.

A MediaTile digital signage solution is more than just screens and software. Our clients are better communicators.
Digital Signage Hardware for
Food & Beverage Industries
We'll choose the right screen for your location and environment so that you can deliver your message to the right audience, at the right time, in the right place.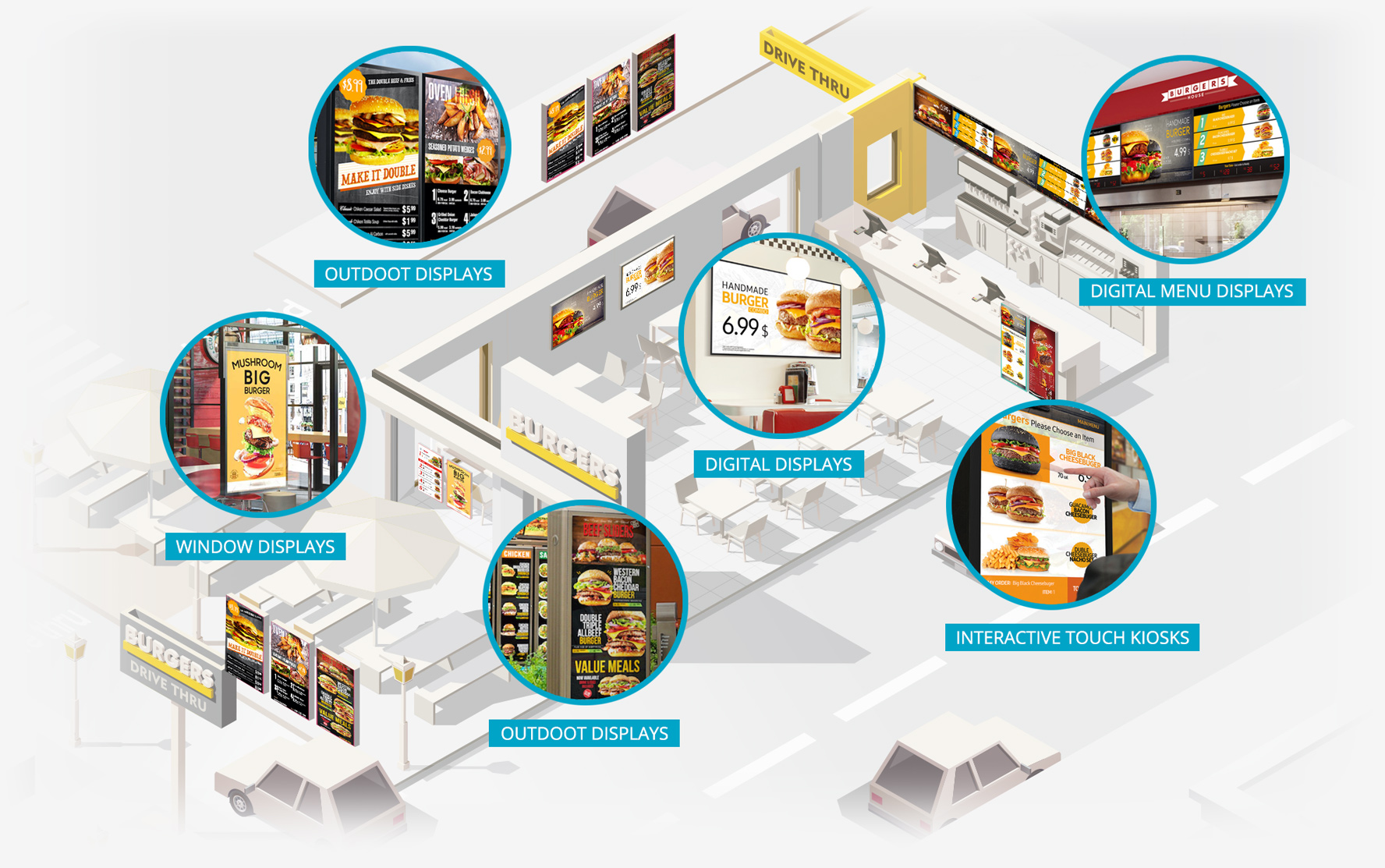 Choosing MediaTile means you get a digital signage solution that meets all of your communication, technical and budgetary needs.