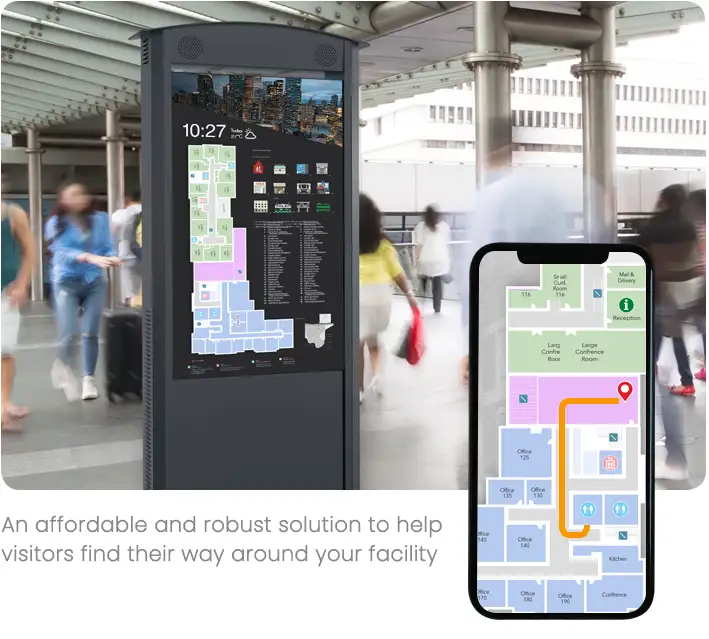 Digital Wayfinding
Use digital wayfinding to guide guests through complex environments such as hospitals, malls, schools, government facilities, office buildings and transportation areas. Alternatively, provide the convenience of on-the-go wayfinding information by effortlessly incorporating it into their smartphones and tablets.
An Affordable and Robust Digital Wayfinding Software Solution
MediaTile Digital Wayfinding Solutions combine innovative software and state-of-the-art interactive kiosks to deliver a superior user experience, guiding visitors through complex environments with ease and efficiency.
Our intuitive MediaTile interactive Wayfinding Software is specifically designed to meet the diverse needs of various industries, including retail, healthcare, transportation, higher education and corporate campuses, and more. With real-time updates, dynamic routing, and a host of customizable features, our software empowers users to navigate any space confidently.
Interactive Wayfinding Software Used by leading institutions globally. Digital Wayfinding Software Features
Our easy-to-use and versatile MediaTile digital signage Content Management Software platform is designed with all the features and integrations you need for a powerful digital wayfinding solution.

Interactive Maps
High-quality, easy-to-read maps that allow users to zoom in, pan, and explore the facility, providing a visual representation of the environment and helping them understand their location relative to their destination.
Real-Time Updates
Update maps and displays in real-time, allowing visitors to get the most current information about a location or venue.
Customizable Design
Customizable design options, so that businesses can tailor their wayfinding displays to match their branding and aesthetics.
Multi-language support
The ability to offer guidance in multiple languages to cater to a diverse user base and ensure that visitors from various backgrounds can easily understand and follow directions.
Real-Time Updates and Dynamic Routing
The capability to update route information in real-time, accounting for changes in facility layout, events, or other factors that may impact navigation.
Accessibility Features
Incorporating features that cater to users with disabilities, such as voice guidance, screen magnification, or alternative route options, to ensure a more inclusive experience.
Emergency Messaging
Integration with CAP 2.0 Emergency messaging systems allows  for quick and automated communication of important information in case of an emergency.
Mobile Integration
Integrate seamlessly with mobile devices, providing visitors with wayfinding information right on their smartphones and tablets.
Analytics and Reporting
Includes analytics and reporting features that provide valuable insights into user behavior and usage patterns, helping make better data-driven decisions.

Get a Custom Digital Wayfinding Solution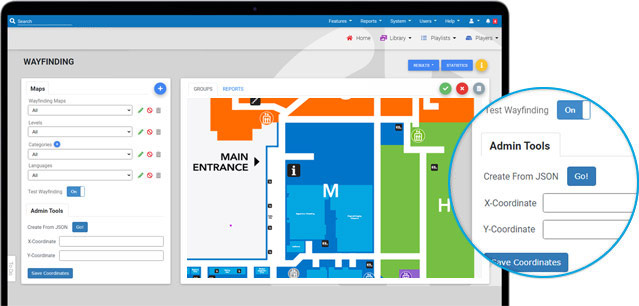 Empower your facility visitors to navigate your space with confidence.
Interactive wayfinding allows users to tap on location listings or on the map to receive the easiest route to get there. QR code technology allows users to take the route with them so they don't get lost along the way. When interactive wayfinding kiosks are not in use, the screens can run your digital signage content. Digital Wayfinding Across Various Industries
Digital Wayfinding Solutions have been widely adopted across various key industries to enhance user experiences, improve operational efficiency, and provide valuable insights. Some of the primary industries that utilize these solutions include:

Healthcare Wayfinding
Hospitals, clinics, and medical centers use Interactive Wayfinding Solutions to help patients, visitors, and staff navigate their often complex and sprawling facilities. These systems can reduce anxiety and confusion, while also saving time and resources.

Public Spaces
Libraries, museums, and parks can use Digital Wayfinding Solutions to help visitors navigate their spaces, find exhibits or attractions, and access relevant information about their offerings.

Education
Universities, colleges, and schools can implement Interactive Wayfinding Solutions to assist students, faculty, and visitors in navigating their campuses, locating classrooms, offices, and other facilities, as well as staying informed about events and activities.

Retail Wayfinding
Shopping malls, department stores, and large retail complexes utilize Interactive Wayfinding Solutions to help customers find specific stores, products, or promotions. These systems can also be used to gather data on customer behavior, which can be leveraged for marketing purposes and to optimize store layouts.

Transportation
Airports, train stations, and bus terminals employ Digital Wayfinding Solutions to guide travelers through their facilities, provide real-time updates on departures and arrivals, and help users find essential services such as ticketing and restrooms.
Corporate Campuses
Large office buildings and corporate campuses use Digital Wayfinding Solutions to help employees and visitors navigate their premises, locate meeting rooms, and find amenities such as cafeterias and restrooms.