Digital Signage in Retail Environments: The Future of the In-Store Shopping Experience
The retail industry is constantly evolving, and retailers are constantly adapting to stay ahead of the competition. Retail digital signage has become an essential tool for retailers who want to engage their customers and enhance the in-store shopping experience.
Retail digital refers to the use of remotely managed electronic displays, such as LCD or LED screens, to display information or advertisements to in-store customers. These displays are used to showcase product information, sales and promotions, or other messages that are intended to engage, educate and inform customers. Digital signage is an essential tool for retailers because it allows them to quickly and easily update the information displayed, and is far more visually appealing and attention-grabbing than traditional static signs.
Average transaction value is higher in stores with digital signage by
29.5%
Digital signage increases average customer browsing time by
30% 12 key benefits of using digital signage in retail environments:

Attract and Engage Customers
Retail digital signage creates an impactful, visually appealing atmosphere that captivates customers and keeps them engaged during their in-store shopping experience. Dynamic animations, video displays, and eye-catching graphics are just a few examples of how digital signage can be leveraged to attract customers.

Increase Sales
Retailers use digital signage to promote products, sales, and other special offers, driving impulse purchases and increasing overall sales. For example, digital displays showcasing limited-time promotions, special offers, and new products can entice customers to make a purchase at the point of sale.

Improve Customer Experience
Retail digital signage provides customers with relevant and up-to-date information about products, such as product descriptions, online reviews, and prices, helping them make informed in-store purchasing decisions. Interactive kiosks and touch screens also provide a personalized shopping experience by allowing customers to view and compare products, place orders, and more.

Enhance Brand Awareness
Retailers use digital signage to showcase their brand, corporate values, and products, building brand recognition and brand loyalty. For instance, digital displays can be used to promote company culture, values, and community involvement, helping customers form a personal connection with the brand.

Save Time and Money
Retail digital signage eliminates the need for costly printed signage and traditional marketing materials, saving time and resources while being more environmentally friendly. Digital displays can be updated quickly and easily, enabling retailers to keep their content current and relevant without the need for the costly logistics and personnel involved in updating static signage.

Easy to Update
The flexibility of digital signage allows for quick and easy updates to the content on displays, ensuring that the information being displayed is always current and relevant. Playlist can be entirely dynamic avoiding repeated content loops and making updating of displays as easy as a simply drag and drop from your desktop. Retailers can make changes to their displays from anywhere, at any time.

Customizable
Digital signage is highly customizable, allowing retailers to tailor the content on their displays to fit their specific needs and goals. Create templates corporate branded templates for all stores that can allow only individual regions to be updated by individual locations. For instance, retailers can run different promotions at each location depending on varying inventory levels. Recognize local employee achievements to improve employee moral.

Interactive
Retail digital signage includes interactive elements, such as touch screens, QR codes, and augmented reality, providing customers with an immersive shopping experience. For example, touch screens can be used to showcase products in greater detail, allowing customers to view products from multiple angles and zoom in on specific features while in-store without having to open a box.

Targeted Advertising
Retailers can use digital signage to deliver targeted, relevant advertising to specific customer segments, such as age, gender, or location. For instance, displays can be set up to show advertisements specific to the time of day, weather conditions, or location of the store. Provide content in varying languages to engage patrons in their preferred language.

Measure Success
Digital signage analytics allow retailers to measure the success of their campaigns, providing valuable insights into customer behavior and engagement. Retailers use this data to make informed decisions about future marketing efforts and improve the overall customer experience.

Repurpose Social Media Content
Retailers can easily repurpose social media content, such as user-generated content or brand influencer posts, to showcase on in-store digital signage displays. This helps retailers leverage the power of social media and connect with customers on a personal level.

Provide Entertainment
Digital signage is also used to provide entertainment for customers, such as playing music videos, showcasing fashion shows, or displaying live sports events. This helps keep customers engaged and entertained while they shop, creating a more enjoyable shopping experience.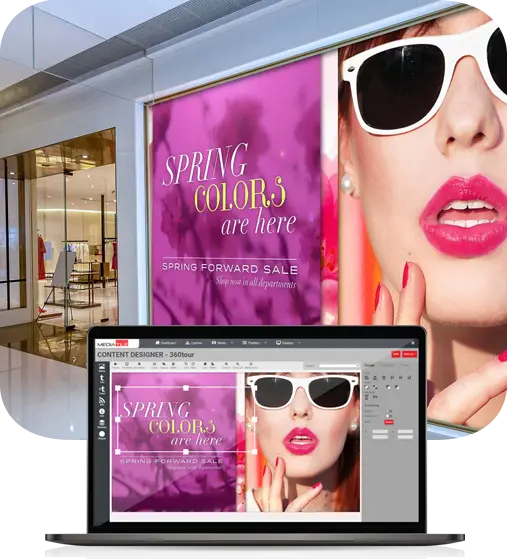 Powerful Retail Tool
Digital signage is a powerful tool for retailers to attract, engage, and convert customers. By providing a dynamic, interactive, and personalized shopping experience, digital signage can help retailers stay ahead of the competition and drive growth.
Examples of Digital Signage in Retail Environments:
In-store Promotions
Digital displays are used to highlight special promotions and sales, helping to drive impulse purchases.
Product Descriptions and Reviews
Digital displays provide customers with detailed product information, including customer reviews and ratings, helping them make informed purchasing decisions.
Interactive Product Displays
Retailers use digital displays to create interactive product displays, allowing customers to try out products virtually.
Brand Awareness
Retailers use digital displays to showcase their brand, values, and products, helping to build brand recognition and loyalty.
Retail Digital Signage Product Showcase
We'll choose the right screen for your location and environment so that you can deliver your message to the right audience, at the right time, in the right place.

Engage Customers with Impactful Messaging
Digital displays showcase products and promotions, creating a dynamic and engaging shopping experience for customers.
Provide Product Information at the Point of Sale
Digital shelf edge displays give customers product information and pricing, helping drive impulse purchases by highlighting promotions, new products, and other relevant information.
Offer a Personalized, Interactive Shopping Experience
Interactive kiosks provide customers with a personalized, interactive shopping experience, showcasing products, providing product information, and allowing customers to place orders or make purchases.
Immerse Customers in a Visual Spectacle
Video walls draw customers in and create an immersive shopping experience, showcasing product demonstrations, advertisements, and other engaging content.
Reach Customers Both Inside and Outside the Store
Double-sided in-window displays reach customers both inside and outside the store, showcasing products, promotions, and other engaging content.
Help Customers Navigate the Store Efficiently
In-Store wayfinding helps customers navigate the store and find the products they are looking for, providing directions, store maps, and other relevant information through digital signage displays.
Digital Signage Solutions
for Retail
Capture the attention of shoppers with an unparalleled in-store experience. Effective digital signage solutions increase footfall, browsing time, conversion, average transaction value, buyer confidence and repeat buyers. Our MediaTile experts help you create a communication plan with digital signage that engages, educates and empowers your customers before they enter your store and up to the point of purchase.
Engage
Attract passing foot traffic with dynamic visual content
Display specific ads to different customers using anonymous audience detection
Produce user generated content and showcase customers by displaying live social media hashtag feeds
Educate
Market promotions and new products to cross sell and upsell
Provide additional information about products by catalogue browsing or barcode scanning on an interactive kiosk
Push deals and announcements to customer phones as they enter your store using beacons
Empower
Allow customers to independently browse and request sizes using interactive kiosks
Provide support using 2-way video calling to streamline customer support in large stores or limit contact for social distancing
Set up price-checking kiosks that display messages and ads when not in use MediaTile Platform Features
for Retail
Our easy-to-use and versatile MediaTile digital signage Content Management Software platform is designed with all the features and integrations you need for a powerful digital signage solution.

Promote Deals and New Products with Beacons
Use your digital signage to communicate with your audience's mobile devices via Bluetooth and Wi-Fi. Send deals to your customers as they enter your retail store, or send alerts to warehouse employees if they are too close to a dangerous location or hazardous materials. Receive anonymous traffic patterns to understand how your audience moves within your store.
Guide Customers through Malls using Wayfinding and Directories
Welcome customers with the comfort of being able to find new and favourite stores, food courts, washrooms and other facilities. You have complete control over your wayfinding and directory information so you can make quick changes if classrooms move or faculty switch offices.
Tap for Payments and Loyalty Points with NFC/RFID
Accept contactless payments, track loyalty program points, provide targeted marketing and more. Enable NFC to your digital signage to provide value to your audience with the tap of their NFC-enabled mobile device.
Curate Customer-Specific Messaging with Audience Analytics
Trigger specific content to display based on audience demographics, such as age or gender. Collect anonymous analytics about the demographic make-up of your customers.
Capture Customer Attention with Kiosks
Allow customers to look up product information, request sizing or check pricing. Display your content on the screens when they are not in use. All of our displays can be modified to interact using gesture, QR code mobile control and touchscreen technology.
Manage Multiple Departments and Store Locations
Display different content to specific departments or screen locations so your customers only receive relevant information.
Get a Custom Digital Signage Solution

Speak to a MediaTile expert to get a digital signage solution for your unique communication needs.
We'll create a custom digital signage solution for you, at no obligation or cost. See how digital signage can benefit your retail space.

Book a demo to explore all of the platform features that will make up your digital signage solution. Discover how easy it is to manage your content and screens on our secure network.

A MediaTile digital signage solution is more than just screens and software. Our clients are better communicators.
Choosing MediaTile means you get a digital signage solution that meets all of your communication, technical and budgetary needs.