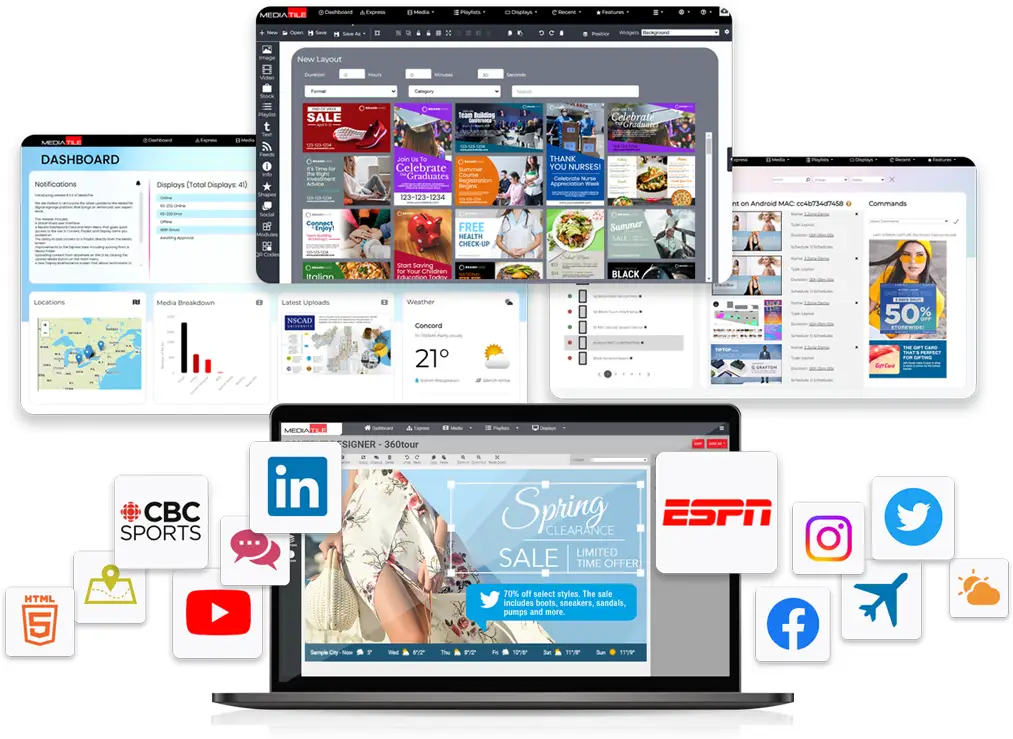 Easy-to-use cloud-based digital signage software to remotely manage digital displays, video walls, LEDs, or digital kiosks from any device, anywhere!
With a user-friendly interface and a range of features, including a drag-and-drop content creator, MediaTile empowers you to create dynamic content in various formats. From text, video, and graphics to social media widgets, streaming content, real-time data, event schedules, and interactive web pages, we've got you covered.
Effortlessly manage digital displays, video walls, interactive kiosks, building directories, and interactive wayfinding from any device with a modern web browser.
Cloud-Based Digital Signage Software Used by leading institutions globally.
Key Features of Our Digital Signage Software
Power a network of digital screens worldwide with our comprehensive CMS platform. Manage content from anywhere, anytime, using a web browser.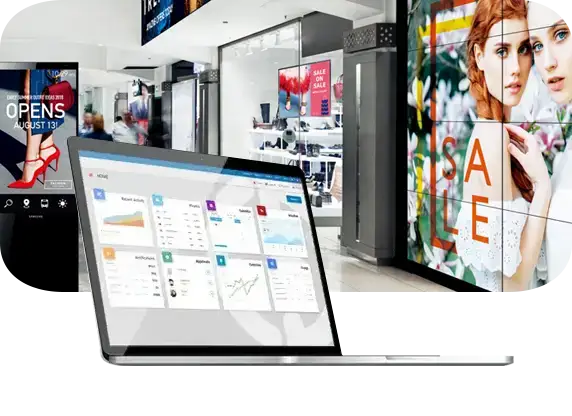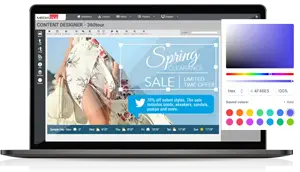 Intuitive Content Designer
MediaTile's Content Designer offers an intuitive, widget-based, drag-and-drop tool for creating visually stunning media. Customize templates or start from scratch.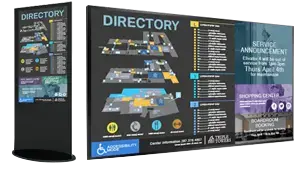 Smart List Widget
Streamline content list creation with the Smart List widget. Grid-based content, such as Building Directories, becomes effortless. Source data from various web services or CSV files.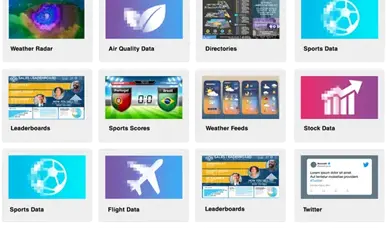 3rd Party Software Integration
Integrate external software and real-time data sources like weather, news, and stock prices into your digital signage content.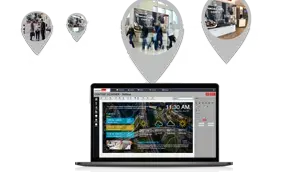 Location-Based Content
Effortlessly manage and play content tailored to specific locations with Placeholder Playlists. Link them to Players or Playlist Widgets in the Content Designer.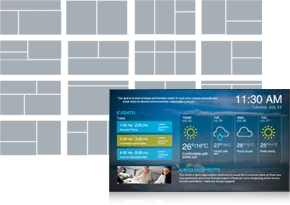 Pre-Built Zone Based Layouts
Create a single layout separated by zones that seamlessly incorporates all of your content including images, videos, playlists, news feeds, social media, and streams including web feeds and live TV.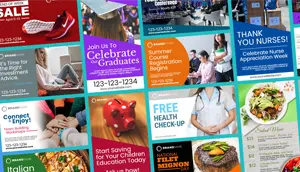 Pre-designed Templates
Create new Content Designer media quickly and easily using one of more than a hundred free, professionally designed templates spanning many industries and customize them to fit your needs.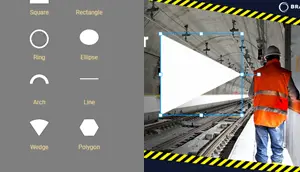 Shapes Widget
Easily enhance your Content Designer Media with shapes like circles, squares, triangles, and rectangles to create visually appealing content.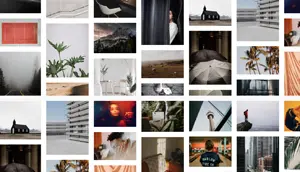 Stock Photos Integration
Import thousands of high-quality stock photos into your content with simple drag-and-drop functionality.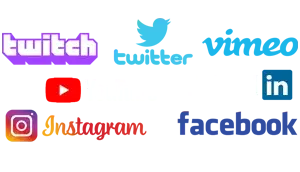 Social Media Widgets
Simplify the addition of social media content to your digital signage for enhanced engagement.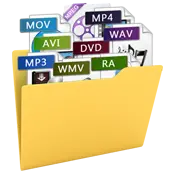 Library Folder Synced Playlists
Dynamically include content from specific Library folders in your playlists. Changes sync automatically with assigned Players, eliminating manual intervention.
Signage Software Technologies Integrations
Our Digital Signage Software offers a wide range of innovative features including Anonymous Analytics, Gesture Control, Live 2-way Video Chat, interactive Wayfinding and much more.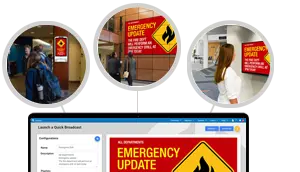 Emergency Broadcasts
Deliver critical alerts to targeted screens to warn of impending bad weather or other dangerous situations while including the pertinent safety steps and procedures people will need to follow. Or simply read alerts using the CAP messaging standard.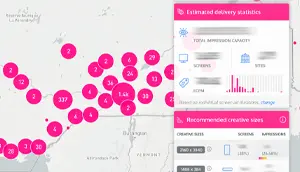 Create an Ad Network with your Digital Displays
For those looking to generate revenue with their Digital Signage Display Network, integration with Programmatic Advertising Portals such as HiveStack makes it easy to select the type of content you want to allow on your network and how often you want it to play. Ads will automatically be served up within the frequency you select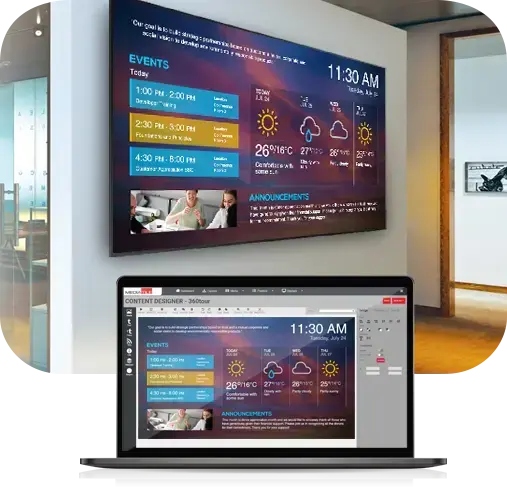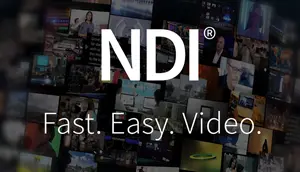 NDI Streaming Support
Seamlessly incorporate streaming content from popular sources like Microsoft Teams and Zoom meetings.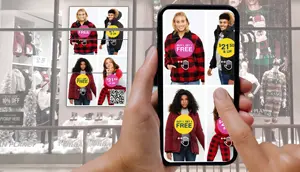 Touchless Interaction
Control displays remotely via smartphone by scanning a player QR code for touchless interaction.
Digital Signage Software Management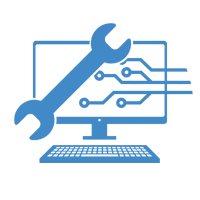 Media Compatibility Scanning and Repair
Identify and fix incorrectly sized or encoded videos and images with a single click.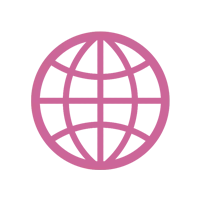 Centralized Network Management
Simplify content management across all displays with Express UI, designed for smaller networks.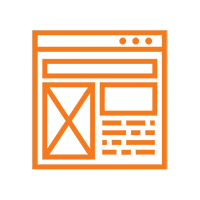 Real-time Player Instructions
Extend real-time communication to all media player platforms. Monitor player status and retrieve live screen shots remotely.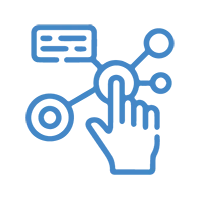 Scheduling and Playlists
Schedule content for specific times and locations, ensuring your message reaches the right audience at the right time.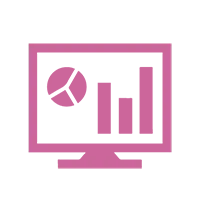 Real-time Analytics
Gain valuable insights into content performance for data-driven decisions and optimized strategies.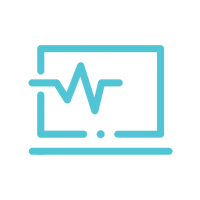 Pro-active Health Monitoring
Monitor network health to quickly identify and resolve issues, ensuring uptime.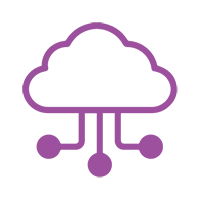 Remote Management
Update and manage digital signage content from anywhere using any modern web browser.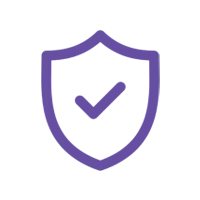 Security and Access Control
Implement secure access control and role-based permissions for content management and editing.
Digital Display Content Editor
The drag-and-drop interface makes managing content zones easy.
MediaTile's integrated Content Designer empowers users to craft visually appealing media using an intuitive, widget-based, drag-and-drop tool.
Easily create impactful, custom content with drop-in images and videos, social feeds from sources like YouTube, real-time weather and news feeds, dynamic data charts and much more. Make you content come alive by adding attention grabbing animations and helpful interactive elements.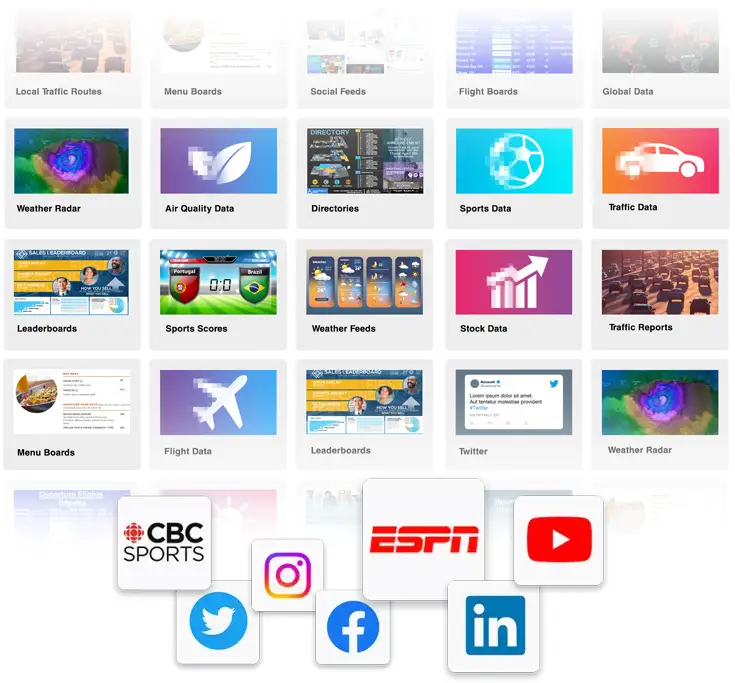 Signage Software App Integrations
Maximize the Effectiveness of Your Displays with Timely and Relevant Content. MediaTile's Digital Signage Software Simplifies Connectivity to Hundreds of Popular Apps.
AP News
Air Quality Data
Animated Weather Radar
Calendars
Company Stocks
Countdown Clock
Customer Service Tips
Directories
Facebook
Featured Person
Featured Products
Financial Data
Flight Data
Google Trends
Instagram
Local Traffic Routes
Leaderboards
Pollen Data
Menu Boards
Pop Quiz
Safety Tips
Simple Messages
Sports Central
Sports Scores Data
Traffic Data
Twitter
UV Index
Weather Data
Healthy Bites
Digital Sign Templates
Create templates with pre-defined zones or start with a blank canvas.
Select from a vast collection of editable, pre-made templates to initiate your message delivery. With our drag-and-drop content designer, you enjoy full creative control, eliminating the need for additional software to enhance your signage's appearance.
Our repository of templates continuously expands. Can't find the perfect fit? Inform us, and our design team will provide assistance.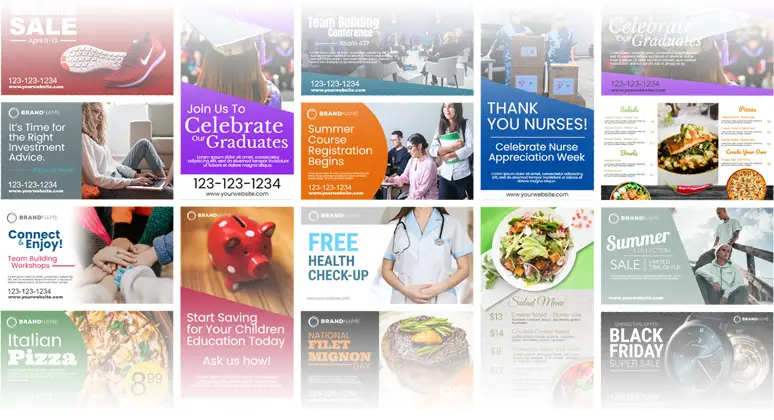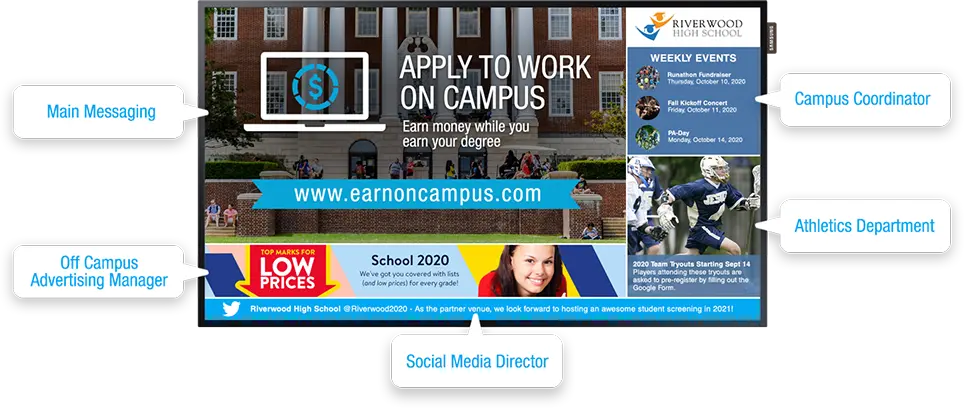 Zone-Based Access
Efficiently manage your digital signage team with MediaTile's digital signage software, which offers zone-based access. Assign custom permissions to team members, enabling administrators to delegate messaging responsibilities by department.
One of the often overlooked yet crucial aspects of digital signage is content management. To maximize the potential of your digital display system, it's essential to allocate content responsibilities among multiple stakeholders. By assigning custom permissions, administrators can efficiently separate messaging responsibilities by department.
Cloud-Based Services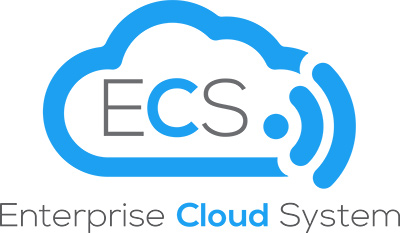 Experience the power of our cloud-based digital signage software solution, hosted by the world's leading cloud service provider. With hosting locations in Canada, the United States, and Europe, our platform is expertly managed by our team, ensuring your peace of mind. Say goodbye to the hassles of integrating and maintaining local services within your corporate network, and count on guaranteed rock-solid uptime.
The Advantages of a Cloud-Based Software
No need for costly onsite servers or software purchases.
Our team of experts manages the cloud infrastructure.
Enjoy seamless and automatic software updates.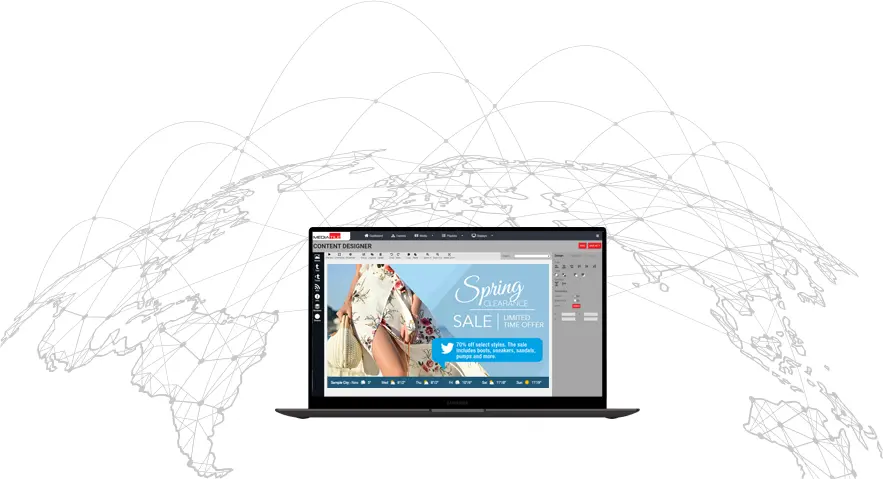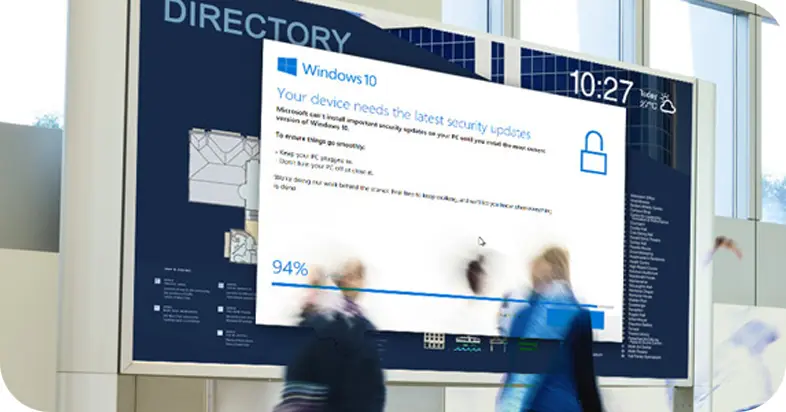 System Security

Having a secure digital signage software system in place is critical for any digital signage network. It ensures that your data is safe and secure with no downtime. You also have visibility over any third-party users with advanced roles-based security.
Security System Capabilities
User Access Control: Maintain precise control over user visibility.
Robust Security: Utilize roles-based security for comprehensive platform control.
Detailed Activity Logs: Track all user activity with timestamps.
Secure Communication: Ensure secure HTTPS communication between media players and the MediaTile Portal.
Enhanced Authentication: Benefit from 2-factor Authentication and Single Sign-On (SSO) options.