46%
of customers say quick access to sales reps and information makes their buying experience easier
54%
are more willing to buy a car from a dealership that creates a better experience over one with lower pricing
Digital Signage Solutions for
Automotive Dealerships
Excite your customers with an experience they will want to drive home in. Effective digital signage solutions create a new communications channel for educating customers about products and features in an engaging way, increasing your average sale, reducing perceived wait time and more.
Engage
Present messages that are 43% more effective by using digital signage as visual aid
Display ads or videos on interactive touchscreens when they're not in use
Attract passing traffic with captivating outdoor or window digital signage campaigns
Educate
Share key details, visuals and promotions with an 83% recall rate
Push deals and announcements to customer phones as they enter your dealership using beacons
Display financing calculators, features and other interactive content
Empower
Allow customers to independently browse digital catalogues on interactive kiosks
Present a "call a rep" button or live chat box on your screen so your customers can easily get assistance
Save money and time on printing, distributing and installing print ads for dealerships MediaTile Platform Features for
Automotive Dealerships
Our easy-to-use and versatile MediaTile digital signage Content Management Software platform is designed with all the features and integrations you need for a powerful digital signage solution.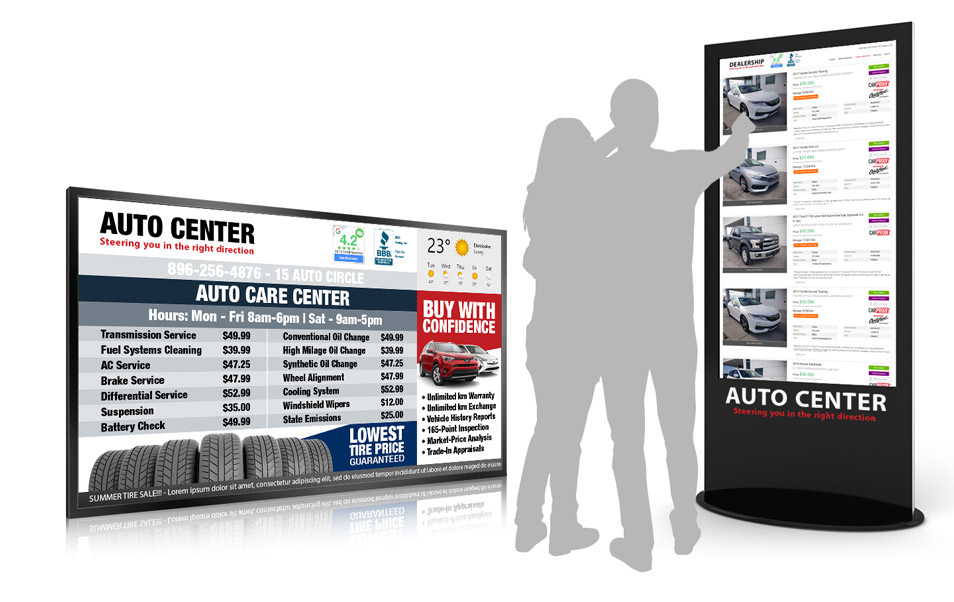 Curate Relevant Messaging for Multiple Locations
Display different content to specific zones or screen locations so your customers only receive relevant information about products and deals in their region.
Engage and Interact in Multiple Languages
Display messages and content in several languages to support your customers with varying linguistic requirements.
Protect Your Displays from Harsh Environments
Ensure the longevity of your screens. Our outdoor display enclosures keep your screens safe from harsh outdoor conditions such as small dust particles, electrical surges, physical impact and theft.
Collect Feedback and Forms with Kiosks
Electronically collect customer satisfaction feedback forms or information request forms. All of our displays can be modified to interact using gesture, QR code mobile control and touchscreen technology.
Promote Deals and New Products with Beacons
Use your digital signage to communicate with your audience's mobile devices via Bluetooth and Wi-Fi. Send deals and promotions to your customers as they enter your dealership or approach specific car models. Receive anonymous traffic patterns to understand how your audience moves within your dealership.
Entertain Waiting Areas with Live Feeds and Media
Pull from local news, local weather, stocks, social media feeds and more, so customers can stay up to date and informed while waiting to be assisted. Digital signage reduces perceived wait time by up to 35%.
Get a Custom Digital Signage Solution

Speak to a MediaTile expert to get a digital signage solution for your unique communication needs.
We'll create a custom digital signage solution for you, at no obligation or cost. See how digital signage can benefit your automotive dealership.

Book a demo to explore all of the platform features that will make up your digital signage solution. Discover how easy it is to manage your content and screens on our secure network.

A MediaTile digital signage solution is more than just screens and software. Our clients are better communicators.
Digital Signage Hardware for
Automotive Dealerships
We'll choose the right screen for your location and environment so that you can deliver your message to the right audience, at the right time, in the right place.

Choosing MediaTile means you get a digital signage solution that meets all of your communication, technical and budgetary needs.