Digital Signage Solutions
Deliver your message
to the right people, in the right place, with the right content, at the right time.
MediaTile is a leading Digital Signage solutions provider trusted by businesses in Canada, USA and around the world. We provide all of the services and expertise you need to create, install and manage a digital communications network, including indoor and outdoor digital signs, video walls, interactive kiosks, LED displays, digital wayfinding, building directories, and more. Most importantly, we have a cloud based digital signage software platform that is scalable, easy to use and is developed and supported entirely in-house. We are so confident in our solutions that we include unlimited web training and phone support with all active subscriptions.

There's a lot that goes into creating an effective communication solution. Our Digital communications experts build custom solutions based on your unique needs.

Discover our "Think" Process.
Signage Software Features

Content Designer
MediaTile's Content Designer offers an intuitive, widget-based, drag-and-drop tool for creating stunning media. Design templates with pre-defined zones or start from scratch.

3rd Party Software & Live Data Integration
Users can effortlessly incorporate various software or web services, such as real-time weather, news, stock prices, and more, into their signage display content.

Pre-Designed Templates
Effortlessly create new media using MediaTile's Content Designer with over a hundred professionally designed templates across multiple industries. Customize these templates to perfectly suit your requirements.

Social Media Integration
Easily enhance your digital display signage content by seamlessly integrating social media content using Social Media Widgets.
Stock Photos
Access a vast library of thousands of stunning, high-quality stock photos that can be easily incorporated into your content through a simple drag-and-drop interface.
Digital Signage Hardware Solutions
Our solutions, including digital displays, video walls, and interactive kiosks, offers captivating and dynamic visual solutions for engaging and interactive customer experiences.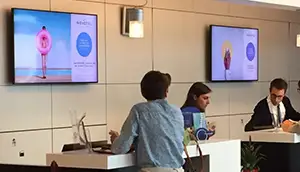 Commercial displays are purpose-built high-quality screens designed to operate continuously, ensuring vibrant picture quality throughout the day and night.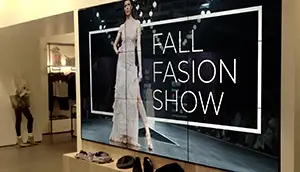 From a modest 1x2 display to an impressive 30ft configuration, a video wall never fails to deliver a breathtaking visual impact in any setting.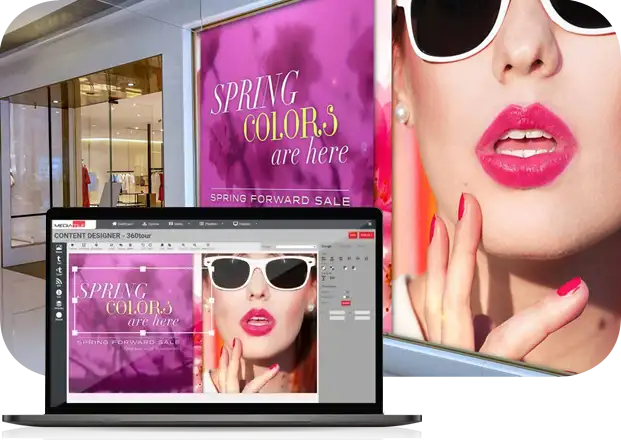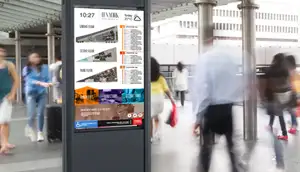 We offer a diverse range of intelligently designed interactive Digital Kiosks available in various styles and configurations, catering to the unique communication goals of numerous industries.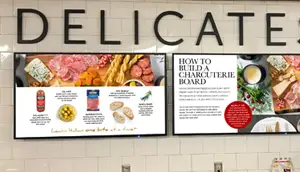 Effortlessly display relevant and up-to-date content, such as daily specials, price adjustments, or updates on out-of-stock menu items, ensuring your menu is always fresh and engaging.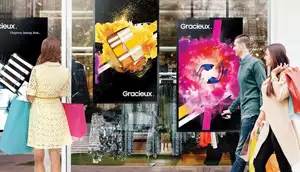 Specifically designed for storefront windows, our double-sided displays offer a compelling combination: an outward-facing sign to attract and captivate the audience, and an inside-facing sign to engage and educate them effectively.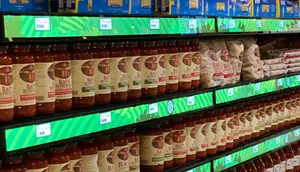 Transform traditional merchandising displays and store shelves into dynamic digital media communicators, enabling the creation of immersive shopping experiences that captivate customers in a digital realm.
Digital Signage Technologies
Our Content Management Software platform provides robust support for a multitude of advanced functions and integrations. Our comprehensive solutions cater to diverse industries, encompassing a wide range of functionalities.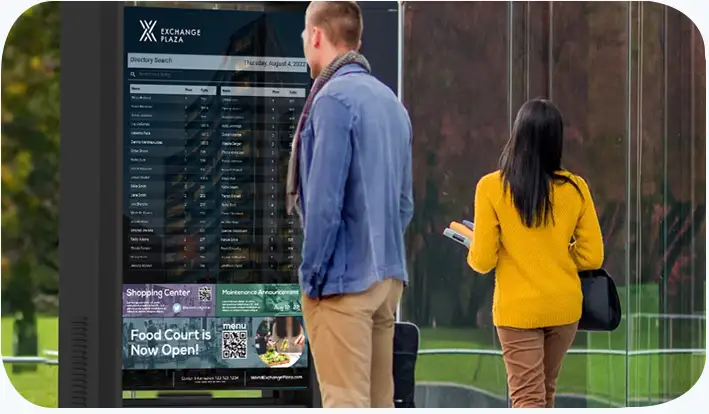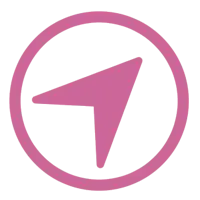 Interactive Wayfinding
Instill confidence in your facility visitors by empowering them with interactive wayfinding capabilities. With the ability to tap on location listings or the map itself, users can effortlessly obtain the most convenient route to their desired destination, ensuring smooth navigation throughout your space.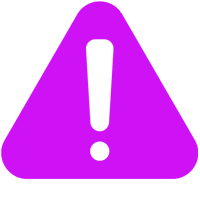 Emergency Broadcasts
Effectively communicate crucial alerts to specific screens, providing timely warnings about impending severe weather or other hazardous situations. Ensure the safety of individuals by including pertinent safety steps and procedures they need to follow, all seamlessly integrated into the alert system. Or simply read alerts using the CAP messaging standard.
Create an Ad Network with your Digital Displays
For those looking to generate revenue with their Digital Display Network, integration with Programmatic Advertising Portals such as HiveStack makes it easy to select the type of content you want to allow on your network and how often you want it to play. Ads will automatically be served up within the frequency you select
Touchless Interaction
Experience touchless display interaction by remotely controlling a display using your smartphone. Simply scan the player QR code to gain full control, providing a seamless and convenient way to operate the display without any physical contact.
Digital Signage Services
At MediaTile, our team of experts specializes in crafting comprehensive end-to-end solutions for digital communications. In addition to providing turnkey services, we offer installation, creative design, and custom software development to enhance and guarantee an exceptional  experience.
How can digital signage help your industry?
Whether its a large video wall, indoor signage, interactive kiosks, menu boards, digital wayfinding, business directories or any combination of these, we will provide all the equipment and installation services anywhere in Canada, USA and around the world along with all the training and support required to ensure success.
What is Digital Signage?
Digital Signage is a content distribution platform for delivering rich media content to one or more digital displays such as digital displays, video walls and interactive kiosks. These displays can communicate information like, news, TV, weather, digital menu boards, wayfinding, calendars, advertising all from any web browser, tablet or mobile device. Environments such as corporate buildings, retail stores, hotels and restaurants are becoming a common place for digital displays.
Featured Projects
We work hand-in-hand with our partners to maximize their communications efforts. We leverage our experience, quality, and expertise to successfully achieve strategic goals. Every company has different needs that require unique solutions. Work with us to find the perfect combination of hardware, software, and services to deliver the optimal digital experience.
MediaTile is trusted by leading institutions globally for digital signage communications solutions in the USA, Canada, Europe, Latin America, the Middle East and ASIA Pacific.