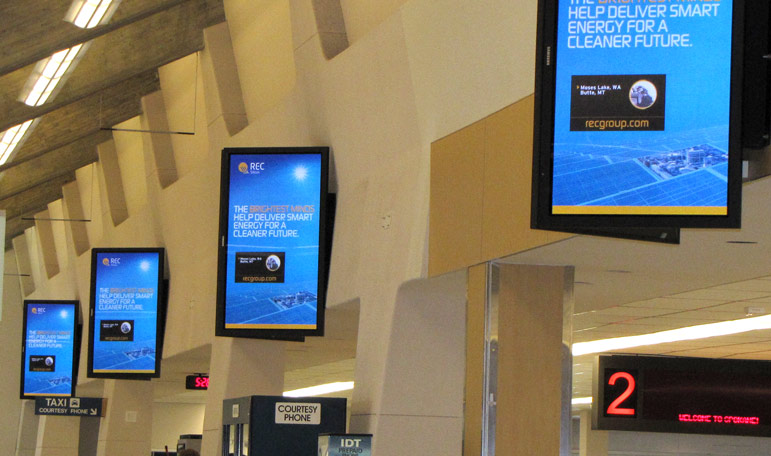 What is digital signage?
There are a few main components that make up digital signage.
Digital Signage Hardware
Hardware refers to the actual electronics that physically make up digital signage. This can include screens, kiosks, tablets, billboards and media players that run your digital signage software. It's also important that you use commercial hardware from a trusted source rather than buying consumer grade from a standard retailer. Using a consumer grade screen for business purposes will usually void the manufacturer warranty, as keeping these devices on puts them at risk of overheating, breaking or burning. Read more about the difference
on our blog
Commercial Displays
Commercial displays are designed and built to operate in a digital signage environment 24 hours a day, 7 days a week.


Video Walls
A video wall that consists of multiple ultra-narrow bezel digital displays tiled together contiguously in order to form one large screen.


Hand Sanitizer Kiosks
MediaTile's hand sanitizer kiosks provide a no-touch sanitizer dispenser with an integrated display and built-in media player.


Interactive Kiosks
An interactive kiosk is a computer terminal featuring a wide range of functions that provides access to information such as facility wayfinding, product catalogues, retail self-checkouts, hotel check-ins and much more.


Double Sided Displays
Double-sided window displays are designed for storefront windows. The outward facing sign attracts an audience while the inside facing sign engages and educates.


LED Video Walls
A light-emitting diode (LED) video wall display is a display panel that uses an array of light-emitting diodes as pixels that can be tiled together contiguously in order to form one large screen and can be scaled to almost any size.


Mosaic Video Walls
Mosaic video walls are video walls that do not follow the common configuration of 2x2 or 3x3 configurations but instead allow users to display content across displays arranged at different angles and placements. This allows users to get creative with configurations to serve as a unique artistic feature in public areas.


Digital Shelf Displays
Digital Shelf Displays or Point-of-Purchase Displays are digital signs installed on product shelves. This serves numerous purposes which include pricing, information, video ads, coupons, branding and promotions.


Wayfinding
Guide your guests through complex environments such as hospitals, malls, schools, government facilities, office buildings and transportation areas.


Digital Menu Boards
Add life to your menus with crisp images, motion graphics, and vibrant colors. Quickly and easily display relevant, up to date content like daily specials, price changes or updating out of stock menu items.


Digital Signage Media Players
Media players are the devices that connect your displays to a Digital Signage Network in real time. Media players are specifically designed, tested and certified to reliably function in a commercial digital signage environment.


Smart Signage SOC
A Smart Signage SOC (System on Chip) is an all-in-one SMART digital signage display. Because the media players are built into the displays, no separate mounting hardware, power or HDMI cable is required.


Digital Signage Software
Content management software varies greatly between companies. This is the software that you use to connect to the digital signage network. Before moving forward with a content management software, ask to demo the platform so you have a sense whether its capabilities meet your communication needs and how easy it is to use. Some digital signage content management software is designed for specific industry use cases, such as a software that mainly specializes in creating restaurant menus. Others are versatile and can be used for use cases across several industries.

While software themselves are typically free, companies charge a licensing fee that connect your devices to their network through the software. These are usually billed annually.
Emergency Broadcasts

Create emergency notifications for your facility and override playlists


Drag and Drop

Easily create a professional layout using a simple drag and drop interface.


Robust Scheduling

Manage and schedule playlists by individual locations or groups of locations.


Audience Analytics

Understand your audience and display relevant content that will engage and interest them in real time.


Beacons

Interact with your digital signage audience with beacon technology. Send messages, notifications, and alerts to enhance the user experience.


Cellular Connectivity

Cellular connectivity is a great alternative internet connection method for difficult to reach placements. It has security benefits and provides a consistent and reliable connection.


NFC/RFID

Enable communication between smart phones and an enabled digital sign to allow users to receive information such as products, services or coupons.


Video Presence

Add live 2-way video chat into your digital signage. This on-demand ability incorporates seamlessly with regular content playback and has built-in efficiencies to maximize value and effectiveness.


Custom Software Development

Need More Functionality? While our platform's capabilities are powerful, we understand that sometimes you need a more specialized solution. Our expert software developers also offer Digital Signage custom software development. If you require specific functionality that our platform does not currently offer, our team of software development experts can work with you to create a custom software for your unique needs.


Content


Whatever is presented on your screens is considered content. Depending on the content management software that you select, you can display photos, videos, text, webpages, weather, livestreams, and even standard or dynamic playlists for a combination of all of these. Consider what kind of content you'll have displayed on your digital signage in order to pick a software that's compatible with your needs.
Connectivity

Your devices can be connected to the digital signage network in many ways. Most networks are cloud-based, so you can access them through Wi-Fi, hardwiring or even cellular connectivity.
What is a digital signage solution?
A full digital signage solution is more than the nuts and bolts that run content on screens. An effective digital signage solution should enable you to communicate more effectively. Here are the steps that MediaTile takes to ensure you are getting a turn-key solution that fits your custom needs:
1. Decide on your communication goals, timeline and budget.
This is important to discuss internally in your business so that you can discuss these with digital signage solution providers and decide which is right for you.
2. Picking the right digital signage solutions provider.
Share your needs with your provider. Bring questions as well. We've included a list below for some ideas of what to ask.
3. Picking the right hardware, software and connectivity for your content.
This is also an opportunity for your digital signage solutions provider to help you decide what kind of screens you require and even what message to deliver. For example, a screen displaying ad for movie snacks might be better placed in a high-traffic area, but maybe not in a washroom where the viewer might have already finished watching their film.
4. Survey the site.
It's important that you have a professional come to surveille the site to ensure that your screens can be mounted or placed safely.
5. Pay for or finance your solution.
Some digital signage solution providers offer financing, which allow you to split up payments in a way that actually might be more beneficial for your business. Read about MediaTile's financing options and why you might finance over paying a full upfront fee.
6. Install your digital signage.
A great solutions provider will with installers on your behalf to ensure that your screens are delivered safely and installed properly.
7. Train your staff and get support.
MediaTile stands by our products, so all of our digital signage licensing comes with free lifetime technical training and support. Check with your digital signage solutions provider to see if they charge extra for support; these costs can add up over the lifespan of your digital signage.
Examples of Digital Signage Solutions

LED boards in school gymnasiums that are durable enough to withstand getting hit with a basketball, and serve as both a scoreboard and a screen that transforms one of your school's biggest spaces into a versatile venue
Interactive kiosks in hotels that allow guests to self-check in via web browser, and display informational content about restaurant and gym features and amenities when they are not in use
Dust-proof screens that can withstand a busy factory setting while visually communicating safety alerts to workers in a loud environment
How do I pick a digital signage solutions provider?

Picking the right provider is the most important step in implementing a digital signage solution that works for you. This is why it's important to come up with communications goals. A complete solution is more than screens and software; it's an investment in your company. Below are some questions that you might want to ask a digital signage solutions provider, as well as answers from our own MediaTile digital signage experts:
How many screens can I manage on your software? Will it scale with my business?
MediaTile software is Enterprise grade, meaning it is designed to scale with your business. It's also incredibly secure, so you don't have to worry about losing control of your content as you expand.
Can I see a demo of your content management software platform?
Absolutely! We offer free demos with our digital signage experts.Book a demo of MediaTile's content management software.
If I need support setting up or training my staff to use the digital signage, does it cost extra?
Not with MediaTile. All of our licensing fees include technical training and support from our team of digital signage experts.
What digital signage solutions have you provided to other businesses in my industry?
Check out our industry pages for some examples of who we've worked with and what solutions we've created for them. Your solution will, of course, be specific to your business. That said, we can always use examples of what other businesses in your industry are doing, as inspiration for what's possible.
How long have you worked in digital signage?
We have over 35 years of experience working in digital signage. Read about our full history.