Digital Signage In Your Fixed Operations Areas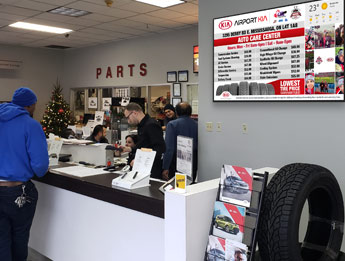 Service Department:
Most dealerships are missing out in this area of Fixed Operations. The service department is a vital part of any car dealership. Research shows that entertaining your customers while they wait for their vehicles could reduce perceived wait times by as much as 45%.
What:
Consider a slim Video Wall to engage your customers. A 2 by 1 video wall (2 screens side by side) is a great way to distract yet engage your customers. I've seen some that display the same message on multiple screens around the Service and Parts area that work really well. This is a great way to ensure that none of your content, service packages or staff introductions goes unnoticed.
Where:
Optimal areas in today's modern fixed operations area of a dealership should include:
- Service Waiting Area (large screen streaming news, TV, and dealership content)
- Service Counter (video wall or multiple screens)
Don't miss out! Most dealerships only stream a local news station like CP24 missing an excellent opportunity better engage with customers and promote products and services. Use a Content Management System like
MediaTile
to create your own branded version of CP24.
Parts Department:
Simply put, the glass cases with odd and outdated products in it are taking up valuable real estate. Items geared towards enthusiasts are missed and very few people have an interest in $5,000 rims. These areas should be stocked with items geared towards your audience. This means better understanding your customer.
A good variety of content in different areas around a dealership has a lot of benefits and cross selling also helps to drive your Showroom Buyers into future in-dealership Service and Parts customers. Digital signage is the most effective way to educate your customers, guide their purchasing decision and create a great experience.