Why is this thing not working?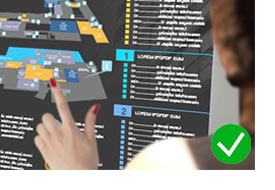 All digital wayfinding solutions require an Internet connection to get updated maps, transfer analytic data, install updates to the software, etc… Many solutions rely heavily on remote servers in order to provide directions. This means they require a fast, always on, always available Internet connection and if that connection goes down, wayfinding will stop working until the connection is restored.
You don't want wayfinding to be unavailable when a visitor needs help, so look for a solution that will continue to operate even if the Internet connection is unavailable.