Improve Safety and Productivity using Digital Signage
3 Ways Manufacturers Can Improve Communications, Safety and Productivity using Technology
Feedback from Plant Managers and Continuous Improvement Managers we speak with have highlighted ongoing communication challenges. Manufacturing plants are generally large footprints, split up in different buildings by section making it difficult to communicate between teams. The environments are usually loud, dusty, and fast paced, making it challenging to communicate with traditional methods. The global pandemic further exposed vulnerabilities in current communication strategies, which has significantly impacted businesses.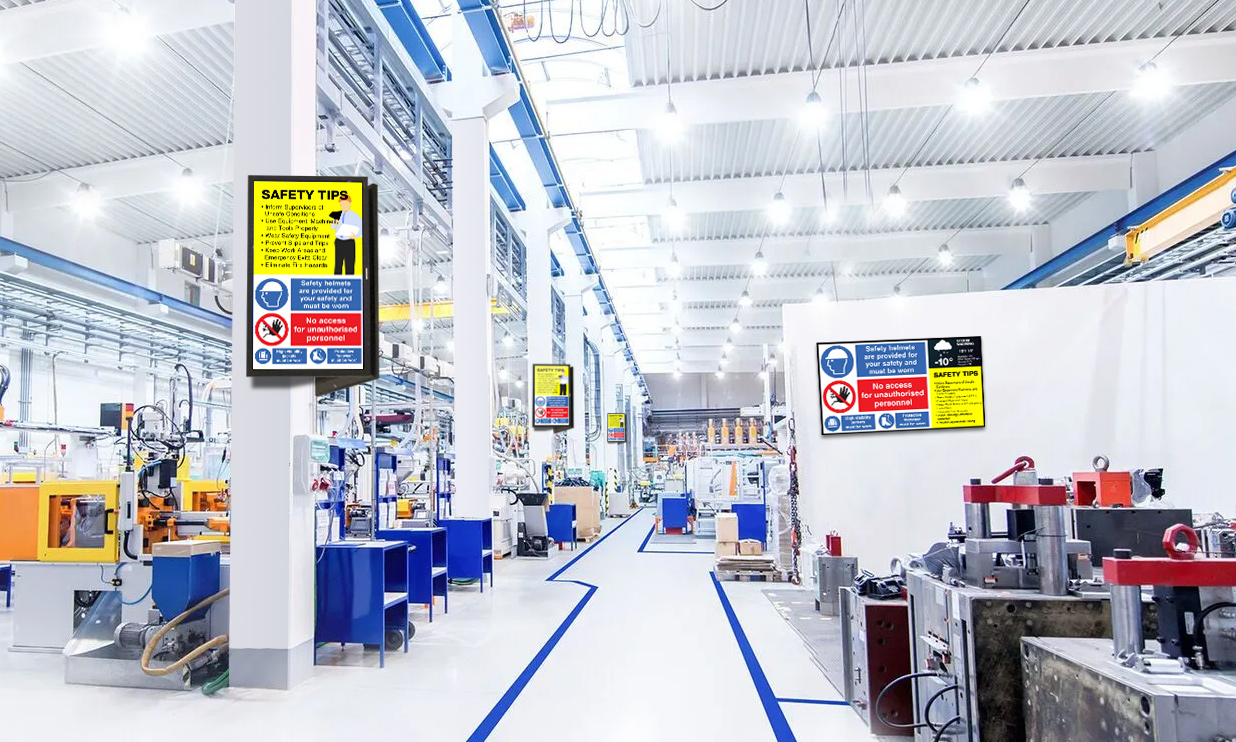 At MediaTile, we inspire our customers around the globe to be better communicators. We provide them with the ability to deliver a message using innovative digital cloud-based digital signage technology in a way that fully engages, educates and empowers their audiences. Our manufacturing customers use it to improve internal communications at multiple levels throughout their organizations.

To protect themselves from future disruptions, manufacturers are turning to technology to safeguard and drive communication and productivity efficiencies throughout their business. Manufacturers face communications challenges that most other industries do not, and therefore must find effective ways to deliver information.

The following are three key areas where manufacturers are effectively using digital signage technology to impact and protect their business:
1. Fail-safe Access to Communications
During the pandemic, some administrators were unable to access their communications networks because they could only be accessed on-site. The result was a loss of productivity and decrease in workplace safety due to outdated, inaccurate, or non-existent information. Dated on-premise technology requires ongoing I.T. support and is subject to hardware/software failures.

By decentralizing communications off-site to the cloud, administrators can access their digital signage network from any web browser and connected device. This means that administrators have access to critical communications infrastructure, even if they are unable to access physical facilities.

Cloud access also allows for targeted message management for different locations, and different areas in the same location, without the need for human physical presence. The ability to manage messaging for multiple locations via cloud-based access improves efficiency and effectiveness of your communications strategy, as well as adding a layer of protection for communications systems in case of emergencies.
2. The Importance of Visual Communication and Accessible Information
Manufacturing jobs involve working with equipment, not at a desk. Many workers don't have access to traditional communication channels like email and telephones. Noise levels are also a major challenge to communication in plants. A visual communication medium allows for a direct way to communicate key information.

Also, manufacturing plants contain multiple areas with different focuses and functions. It is critical that each area of a facility receives the right information. A content management system (CMS) that powers digital displays provide a targeted message to different locations. Packaging, machining, molding and casting can all benefit from general and specific communication at all times.

Another exciting advancement in technology relates to touchless interaction. Oils, chemicals, and other products can damage computers and paper material. Workers with P.P.E on can be limited to what they can interact with. Digital signage technology can provide touchless access to workers who still need to access information or communicate. Technologies such as gesture control allows workers to access inventory, contact, and other information, all without touching the screen.
3. Protecting Workforce Health and Safety
A company's workforce the most valuable part of its organization. While there have been many advancements in physical workplace safety, the pandemic emphasized certain vulnerabilities.

Health-and-safety-focused digital signage protects your workforce productivity by incorporating touchless hand sanitizing and temperature reading capabilities with digital signage to deliver physical health measures with targeted messaging. Instead of leaving it up to the individual, or employing someone to directly manage, our clients typically place these at entrances and common areas, to help keep their teams safe and healthy.

Unfortunately, emergencies happen. Digital signage allows for an emergency broadcast that overrides the base functionality of the digital signage network to issue network-wide emergency notifications and instructions that can save lives.
Is your plant or operation experiencing any of the noted challenges? Do you have areas to improve?
MediaTile inspires and consults with manufacturers worldwide on incorporating technology to communicate more effectively, which leads to increased productivity, safety, and flexibility.
Contact us today to discuss your needs are and how we can address them
.