Helping Retailers Meet Re-Opening Requirements
Top 10 Ways Digital Signage Technologies are Helping Retailers Meet Re-Opening Safety Requirements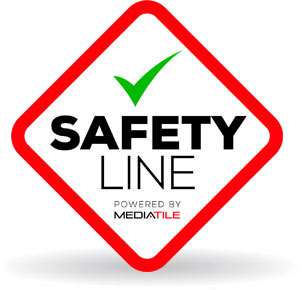 Many retailers have told us that they find it difficult to stay on top of the ever-changing local requirements to remain compliant. Following a framework for resuming in-store retail shopping is critical to help businesses re-open. An effective digital signage communication strategy addresses several critical short-term and long-term strategic elements, that will streamline those requirements and help ensure your staff and customers' health and safety.
Below are 10 ways that MediaTile's is helping retailers use digital signage technologies to meet local requirements for re-opening:
10. Communication: Accurately Convey Important Policies & Procedures
Local authorities require retailers to maintain compliance with local guidelines for keeping employees and customers safe. Unfortunately, these policies and procedures change frequently and sometimes with little notice. For example, current procedures "require all retailers and other sectors to have a safety plan and post it."* Using a digital display to display current requirements, associated rules and safety plans prominently, retailers can manage customers' expectations and ensure they comply with the local regulations. MediaTile's Safety-Line web-based access allows for immediate updates to in-store displays from remote locations. As regulations change, the customer-facing information can easily be updated without replacing costly static print media.

9. Pro-Activity: Actively Screening Before Entering
A consistent mandate for all stages of re-opening has required "Posting signs at all entrances to the premises, in a location visible to the public, that informs individuals on how to screen themselves for COVID-19 before entering the premises."* MediaTile's Safety-Line interactive capabilities allow for completion of the self-screening questionnaire before entry, either directly at the display/kiosk or via cell phone integration with a QR code.

8. Prevention: Touch Free Prevention
MediaTile's Safety-Line of Digital Signage technologies are a series of touchless health-and-safety-related products developed explicitly to limit the spread of COVID-19. These include: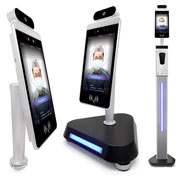 An elevated temperature is one clear symptom of COVID-19 infection. Simply standing in front of the temperature scan tablet will provide an immediate pass/fail temperature reading.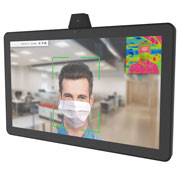 Mask wearing is an essential regulation to stop the spread, especially in indoor spaces. Temperature scan tablets will detect and/or alert if a mask is not in place and remind those who have forgotten to put one on and that it is a requirement before entry. This keeps employees safe and makes the conditions clear.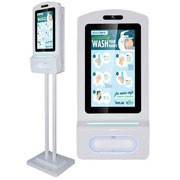 MediaTile has developed a series of digital display kiosks that incorporate touchless hand sanitizer dispensers with a digital display. Hand cleanliness helps prevent surface transmission of COVID-19. The integration of a sanitizer dispenser with a digital display is esthetically more attractive to customers than a drippy jug sitting on a table and safer to use as the process is touchless.
7. Empowerment: Touch Free Interactive Self-Serve
Customers are comfortable interacting with their smartphones. By merely adding a scannable QR code to the content running on a digital display, users can scan the code and be directed to microsites that provide them with the information they were looking for on their mobile devices. Users can also automatically download content such as menus at restaurants, product catalogues, coupons, and other take-home materials. Furthermore, MediaTIle's Video Presence platform allows for live two-way video assistance, without the risk of employees being physically present.

6. Interaction: Touchless Gesture control technology
Avoiding touching surfaces is one way to prevent the spread of COVID-19. MediaTile's Safety-Line of technologies incorporates touchless gesture and cell phone display control with digital displays. Incorporating these forms of touchless interactivity enables users to interact with digital display content without physically touching the display.

5. Well-Being: Improved Employee Safety
Employee safety is of paramount importance in keeping the workplace safe. This extends to the families of employees and, ultimately, your business. Making MediaTile temperature scan tablets and digital interactive self-screening questionnaires part of the employee check-in procedures will confirm that each employee gets adequately screened before beginning their shift.

4. Experience: Reduce Perceived Wait Times
Not all re-opening challenges are physical. The reality of navigating the pandemic is stressful, and having to wait in lines to enter retail establishments can put patrons in a negative mindset. Using digital displays as a visual distraction reduces perceived wait times and provides an opportunity to communicate directly to a captive audience. Customers confirm that entertaining content used on digital displays in waiting areas improves the overall customer experience and reduces perceived wait times.

3. Presentation: The Right Medium with the Right Message
Many times, the best solution is more than just one solution. MediaTile's Safety-Line kiosks and digital displays provide many options to keep employees and customers safe. Temperature scan tablets and hand sanitization kiosks work well for entrances and high-traffic areas due to their integrated health-specific features and portability. Individual digital displays and video walls provide practical ways of engaging customers in-store. Each provides vivid picture quality, 24/7 runtime capabilities, and remote web-based access for easily updating content.

2. Environment: Physical Spacing and Traffic Control
Physical distancing remains an integral part of controlling the spread of COVID-19. Patrons need to be reminded of this necessary regulation and given instructions regarding the physical flow of foot traffic within the environment. Traffic control helps people move safely to ensure compliance with local regulations. A digital wayfinding system visually displays in-store layouts and essential areas of any interior space, thereby making a retail customer's interactions with your business simpler and more efficient.

1. Collaboration: Working together to stop the spread
Ensuring that your retail business understands and complies with local regulations is essential in a safe re-opening of our economy. MediaTiles Safety-Line Technologies is impactful to your business in ensuring compliance with local regulations. Embracing innovative technologies that educate, engage, and empower your employees and customers will help achieve those goals.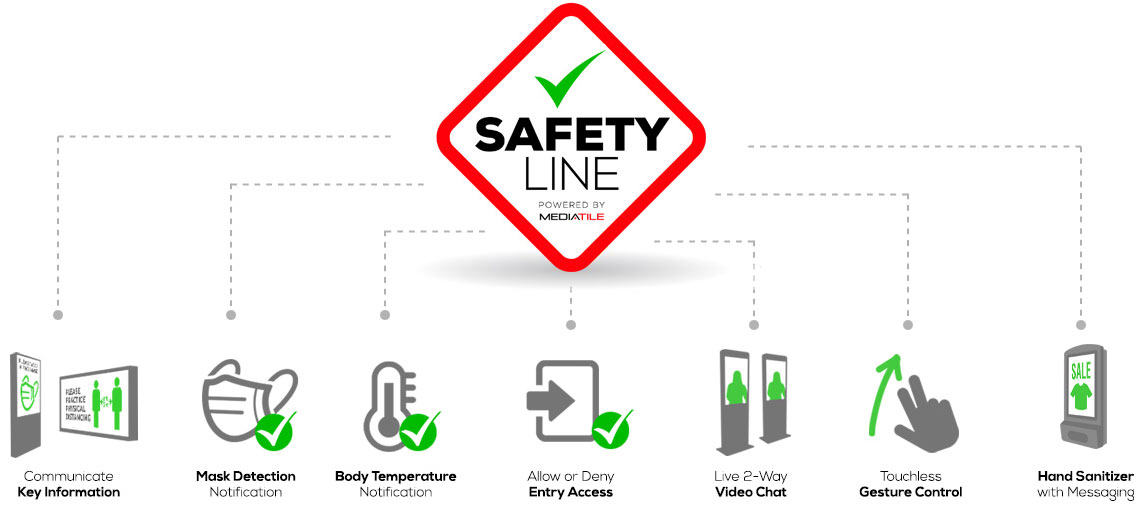 About Safety-Line Technologies
MediaTile's Safety-Line Technologies is a line of digital signage products specifically designed to be health and safety conscious. Our solutions help various industries to support businesses re-opening safely and responsibly.
If you are a business interested in learning more about how we can help you safely re-open your business, contact us. We provide a no-obligation assessment of your operation to align with safety requirements. We work with you to address your needs and get you back to business as quickly and safely. Visit us at 
https://mediatile.com/safety-line-technologies/
 or email us at
sales@corumdigital.com
.
About MediaTile
As a digital signage technology company, we have served our customers for over 25 years as part of the Corum Digital Group of Companies. MediaTile designs innovative solutions specific to our customer's needs. We believe that we make our customers better communicators through the use of our technologies.
References
* This articles references information from The Province of Ontario Newsroom
website
regarding in-person retail shopping framework safety measures.