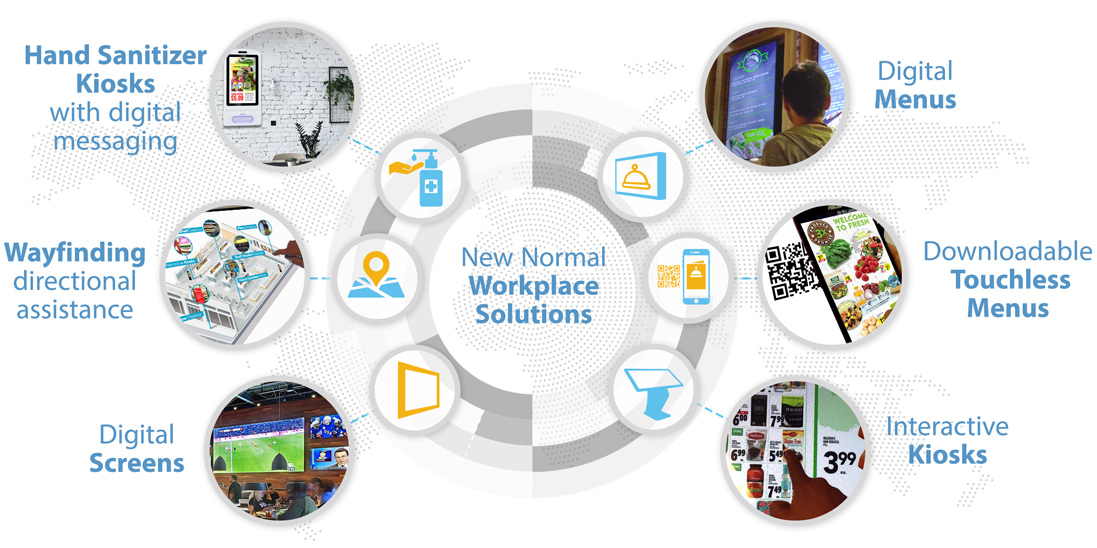 Making it safe to work at and visit restaurants and bars again.
Outside of grocery stores, the
food and beverage industry
has been particularly hit hard by the COVID-19 pandemic, costing millions of jobs around the world. As communities move deeper into re-opening plans, they are strategizing on how to make it safe for people to eat, drink, and work at restaurants. Some steps have already been implemented such as physical distancing, lower capacities, and face coverings. Those are good, logical first steps, but there is more that can be done to make food and beverage establishments safer. Restaurants and bars can look at grocery stores as a blueprint on how to create a safer environment for re-opening.
How Grocery Stores are Using Digital Signage
For years grocery stores have been using digital signage to enhance their in-store experience and attract outside business. They have used a wide variety of solutions from full
video walls
down to shelf-mounted displays to enhance and emphasize their products and services. Now grocery stores are also using their
digital signage platforms
to help navigate life in the pandemic. Messaging is an essential component to inform patrons and staff about safety precautions, rules, augmented store hours, traffic flow, and other essential information. Adding
touchless hand sanitizers
to the network provides another layer of safety that gives uncertain shoppers peace of mind.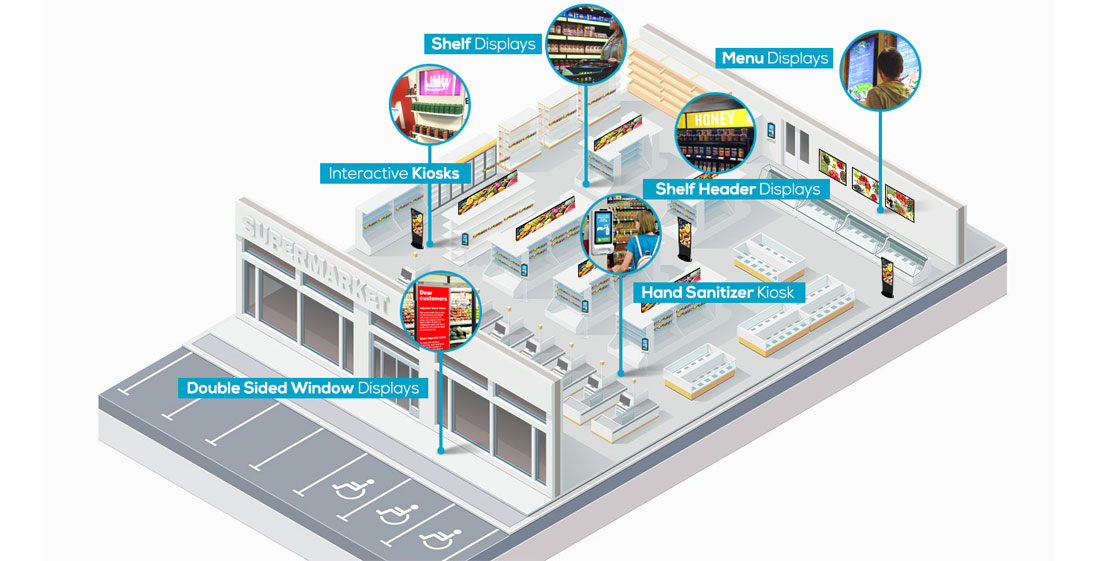 Applying Grocery Store Lessons to Restaurants
Food and Beverage protection starts at the door guarding against infection entering in the first place. Restaurants can use
digital kiosks
to automatically dispense hand sanitizer and take a quick temperature check at the door prior to entry with zero touching. The integrated digital display can be used to communicate a variety of pertinent information on the spot including daily specials, approximate wait time, dining rules, and more. For employees, the hand sanitizer and temperature check help keep a safer working environment. The display can show staff-relevant information such as section assignments, out of stock notifications, schedules, and more.
The Impact of Digital Signs for Restaurants and Bars
Digital signs
are capable of displaying high definition images, animation, and video, enhancing food presentation. Menus, features, specials, and recommendations can be promoted or changed in real time throughout the establishment. Because the displays can be fully controlled wirelessly, changes can be made quickly without having to make multiple manual adjustments which limits potential employee and guest exposure.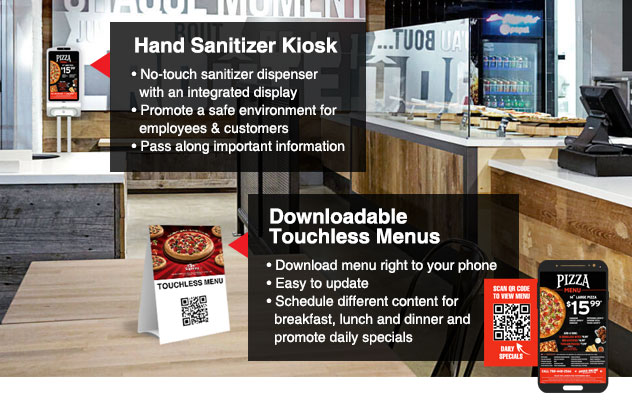 Safety Innovations with Digital Signage Technology
The COVID-19 pandemic has prompted a surge of innovation to find new and effective ways to address ongoing safety needs. Communication and cleanliness are two key factors, but the abilities of digital sign systems offer new and innovative methods to address concerns in public-facing settings. Mobile interaction provides the ability to download menus, coupons, specials, rewards program info and more to smartphones. Digital signs have long incorporated wayfinding abilities to help visitors find stores in shopping malls. Now
wayfinding
is being used to help grocery customers find products or sections and restaurant patrons find their seats and washroom facilities, preventing people from wandering around. Other technologies such as occupancy counting, queues, smartphone interaction, and more are all part of innovative integrated solutions that work together to help limit spread and create a safer dining experience.
Does Your Restaurant Have a Plan?
If you work at a restaurant, or are planning on going to one, find out what steps have been taken to protect you. Does the restaurant have a sanitation and communication plan? There are already health and safety measures in place for handling food and cleanliness. It makes sense to have health and safety measures in place to fight the spread of COVID as well.
Attracting Customers
Grocery store, restaurant, and bar owners are more likely to attract customers over their competitors if they have visible safety measures in place. Even the digital signs themselves can be set to self-promote the safety steps that an establishment has implemented. Combined with impactful content, digital signage is an effective way to attract customers.
The Role of Corum Digital
Corum Digital
is a technology company that focuses on creating innovative, highly reliable and easy to use digital signage technologies. Corum Digital has been using its expertise in digital signage technology to engage, educate, and empower audiences. That same technology is now being incorporated into our COVID-19 response. We are leveraging the abilities of our digital signage along with our content management and communications systems to create a safer food and beverage environment and help the people who work, eat, and drink there be safe.
What Corum Digital Can Do for Your Establishment
We are currently engaged with existing and new food and beverage clients to develop custom solutions to help get their establishments to return to normal in a safe way. We are constantly exploring new ideas to discover new and innovative applications of our digital signage technology. We work with clients to find new ways to accomplish their goal. Speak to our experts to find out what Corum Digital can do for you.