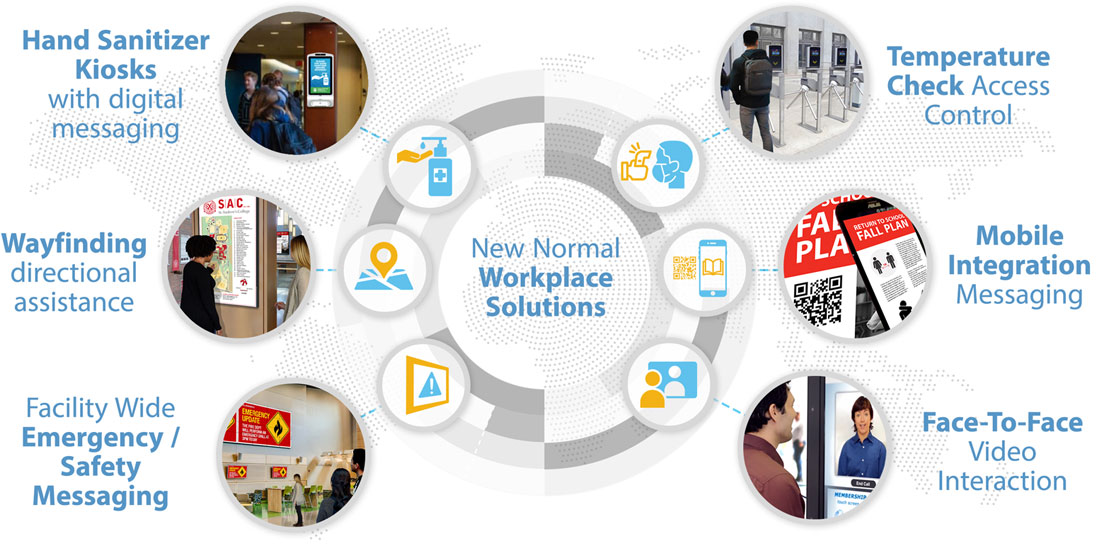 Keeping our children, teachers and administrators safe.
As COVID-19 swept the globe it forced students to study from home as best they could, it cancelled proms and wiped out graduations. While those were necessary steps taken at the time, there is a significant push to have students return to on-site schooling for the new school year, despite the dangers of potential exposure to the virus. Whether it's full-time or some kind of hybrid plan, schools are doing their best to find ways to keep students, teachers, and staff healthy and safe as they move to re-open their doors.
Using Technology to Protect and Communicate in the New Normal
Just as they used technology when they were forced to move to remote learning, schools are looking to leverage technology to help prepare their institutions to re-open. With safety being the top priority, administrators are finding ways to prevent spread, to educate, and to inform.
Digital kiosks with touchless hand sanitizers
and integrated temperature checks combined with networked digital displays provide two key elements of safety, security and communication that are essential parts of any effective plan.
Innovating Safety with Digital Signage Technology
The COVID-19 pandemic has prompted a surge of innovation to find new and effective ways to address ongoing safety needs. Communication and cleanliness are two key factors, but the abilities of digital sign systems offer new and innovative methods to address concerns in school settings.
Digital signs have long incorporated
wayfinding
abilities to help visitors find stores in shopping malls. Now wayfinding is being used to help students find classrooms and facilities, preventing people from wandering around looking for their destination.
For those institutions that require mandatory face coverings,
digital display technology
can detect if someone is wearing a mask or not.
Video calls are now common on our smartphones, and that technology has carried over into digital signage as a way to interact in real time without travelling to another floor, building or standing directly
face-to-face
.
Other technologies such as occupancy counting, queues, smartphone interaction, and more are all part of innovated integrated solutions that work together to help limit spread.
Safety Starts at Doors and Entrances
Digital kiosks
are portable and provide touchless hand sanitizer and
temperature checks
at any school entrance. Kiosks can also be positioned internally at the entrances to key common areas like libraries or cafeterias where student interaction is more likely. The
hand sanitizer
helps keep hands clean before entering, limiting the chances of community spread within the school population. The temperature check is a screen against a common symptom of COVID-19. Hand sanitizer digital kiosks help keep the school environment safer by helping to guard against infection entering in the first place.
The Importance of Internal Communication
Keeping
students, teachers, and staff informed
is essential, regardless of the age level. When necessary digital signage can display key information and updates in real time.
Divided-screen technology
enables customized communications to specific groups or full screen emergency alerts campus-wide. The wireless
digital display
can show age-specific messaging in static image, animation, or HD video formats for optimal effectiveness.
There Are Many Ways We Can Help Stop COVID-19
Until there is a vaccine and an effective treatment, we are forced to use prevention and education as the first lines of defense. The CDC (
Centers for Disease Control
) has outlined recommendations for re-opening schools, and included in them are cleaning your hands and effective use of signage. Digital kiosks with integrated touchless hand sanitizer and temperature check help meet both of those recommendations.
Protecting Faculty and Staff
When discussing return to school, it is important to keep in mind that there are many other people at schools other than the students themselves. There are teachers and staff who are placing themselves at risk as well. We need to provide them the tools and resources to keep themselves and their charges safe in the halls and the classrooms.
Returning to School in the New Normal
In the end, schools will re-open and students, staff, and faculty will return. In order to be successful administrators will need to understand and address safety concerns. Whether they're in elementary school, high school, or post-secondary, children are our future and their education is an essential part of that future. It's up to us to put as many safety measures in place as possible, and to educate and communicate as much as we can to help suppress the spread of this virus. All of these factors will contribute to an overall protective shield against transmission.
Does Your School Have a Plan?
If you are a teacher, staff member, or a parent with returning students, find out what steps your school is taking to re-open safely. Does your school have a sanitation and communication plan? Preventative action now will help mitigate potential community spread upon return.
The Role of Corum Digital
Corum Digital
is a technology company that focuses on creating innovative, highly reliable and easy to use digital signage
technologies
. Corum Digital has been using its expertise in digital signage technology to engage, educate, and empower audiences. That same technology is now being incorporated into our COVID-19 response. We are leveraging the abilities of our digital signage along with our content management and communications systems to create a safer school environment and help the people who work, teach, and learn there be safe.
What Corum Digital Can Do for Your School
We are currently engaged with existing and new educational clients to develop custom solutions to help get their campuses to not just return to normal, but to do so safely.
Speak to our experts
to find out what we can do for you.