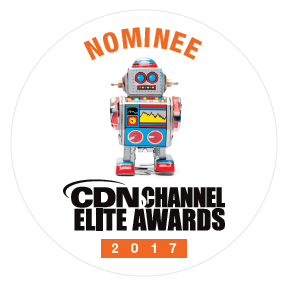 People working in remote locations are often the ones who stand to benefit the most from new technology like the Internet of Things (IoT), but are generally last to see its implementation.
That's where CDN Channel Elite Award nominee MediaTile comes in. The digital signage innovator has designed and deployed a large scale, cellular digital display network to nearly 400 remote work locations, mainly in rural areas. The IoT-connected displays can be used to broadcast information like news, weather, and emergency alerts to improve the flow of communication and enhance the safety of workers.
"Not only does the resulting cellular network of digital signage improve the safety of workers stationed at these remote sites, but it also increases job satisfaction through an employee recognition program," says MediaTile.
The IoT solution can be remotely managed by one user from wherever they may be, who can then access various customer's dashboards to check in on individual sites, specific regions, or the entire communications network as a whole. If one site goes offline, the operator receives an alert so they can quickly address the problem and bring it back online using remote tools.
"This solution was expected to improve employee morale, connect a disparate demographic, and provide a constant flow of information – some of which could be vital to the safety of workers," the company explains. "As well, it promotes collaboration and helps employees feel like they're part of the greater team."
The initial pilot project started at only a couple work sites, but quickly grew to more than 170 locations, and then to almost 400 in a successful three-phase rollout. The company actually saw employees of sites who were left out of the initial pilot lobbying to have their locations equipped with digital signage and hooked up to the network, it adds.
READ FULL ARTICLE - itbusiness.ca